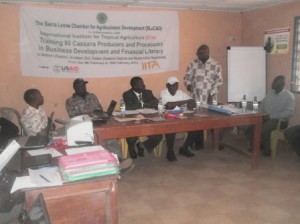 As part of its strive to ensure food security and promote agribusiness development in Sierra Leone, The Sierra Leone Chamber of Agribusiness Development (SLeCAD) in collaboration with IITA and USAID has commenced training sessions for 90 cassava producers and processors in Kambia, Kenema and Bo respectively.
Explaining the objective of the training, the Executive Secretary of SLeCAD, Mr Ahmed Nanoh said that the training is a major component of the UPoCA (Unleashing the Power of Cassava) project and will focus on equipping cassava producers and processors with the relevant business development and financial literacy skills in order to add nutritional and economic value to cassava.
He added that the training will also help the farmers to be in a better position to utilise the facilities in the Agribusiness Centres (ABCs) in order to increase productivity.
Dr. Brima James of IITA who was also in attendance, said that after gaining knowledge on how to grow and process cassava, it is time for farmers to focus on how to get rich from this process. Dr. James further encouraged the participants to form networks to ensure effective communications among each other as they are the engine of the nation's livelihood.
In his concluding statements, Mr. Nanoh appealed with participants to be architects of development in their communities and share the knowledge and skills from the training with others. He promised that as long as farmers continue to work hard, SLeCAD will always be ready to support them.
Also in attendance were Mr. Syl Fannah, National Coordinator IITA, Dr. Alusine Fofanah and Mr. Victor Kailie Kamara, Chief Administrator Kambia District Council.
The training which started in Kambia on the 9th February 2012 will end in Bo on the 19th February 2012.