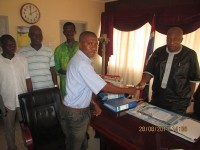 "We want to identify ourselves with the struggles of Ebola" Says: – Chairman Yanni Dangha
Members of the Sierra Leone Peoples Party (SLPP) Gambia Branch, led by their Chairman Roland Yanni Dangha over the weekend made a cash donation of one hundred US Dollars ($100) to Ambassador Soulayman Daramy as part of their branch's contribution towards the fight of the EBOLA VIRUS in Sierra Leone.
Chairman Yanni Dangha said it was a modest contribution to identify their Party's commitment in the fight against the deadly Ebola virus. "We as a Party have seen the stance of the Government in the fight against the virus and we are of the belief that it will be eradicated to save our people, nation and the world at large". Yanni said.
Receiving the cash on behalf of Government, Ambassador Soulayman Daramy thanked the SLPP Members for what he described as "putting politics aside and working towards a common goal". He said the amount do not matter but rather the spirit behind the money. "If others well meaning peoples and organizations can copy your modest example, what a big help it will make, as your donation can save lives and help towards its eradication" he noted.
The cash was then handed over to Deputy Ambassador Haja Saidata Sesay as Head of the contribution Committee. According to the Deputy Ambassador all monies and kind collected will be forwarded to the authorities in Sierra Leone to help in the fight against the Ebola Virus.
Among other Members present were Andrew Mc carthy the PRO and Emmanuel Borbor – Deen.
BY;- Ralph Ese'Donnu Sawyerr,
Information Attaché,
Embassy of Sierra Leone,
In The Gambia and Senegal.