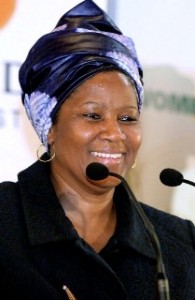 Phumzile Mlambo-Ngcuka, a veteran feminist activist and politician was appointed Wednesday by UN Secretary-General Ban Ki-moon as the new executive director of UN Entity for Gender Equality and Empowerment of Women (UN Women).
Ms. Mlambo-Ngcuka, a former South African deputy president from 2005 to 2008 succeeds Michelle Bachelet – the first executive director of UN Women since 2010 and Chilean president from 2006 to 2010- who resigned in March to run for a second term as president of Chile.
The Secretary-General in a statement acknowledged Bachelet's "commitment in spearheading the organization's work on gender equality and the empowerment of women" in many levels.
During a brief phone interview late Thursday afternoon seeking comments on the primary underlying factor for the selection of Ms Mlambo-Ngcuka to replace Ms Bachelet as the new head of UN Women, Jane Gaffney in the Office of the spokesperson of the Secretary-General said it is against UN policy to go into the specifics of any particular personnel appointment.
Ms Gaffney provided via email, a document "Transparency in the selection and appointment of senior managers in the UN Secretariat" (JIU/REP/2011/2) that outlines the general process that is followed when the UN hires senior managers.
Still, the Secretary-General through his spokesperson applauded Ms. Mlambo-Ngcuka noting, "She brings to this position, a wealth of experience in advocating for women's issues with a combination of strategic leadership, consensus building and hands-on management experience."
Ms. Mlambo-Ngcuka's advocacy for women and youth spans over three decades. She served as the first president of the Natal Organization of Women, an affiliate of the United Democratic Front after its formation in 1983 to increase women's empowerment and promote women's rights
She moved to Geneva to work as Young Women's coordinator for the World Young Women's Christian Association in Geneva (1984-1986)
In 1994, she became a Member of Parliament chairing the Public Service Portfolio Committee. She served as deputy minister in the Department of Trade and Industry (1996-1999), minister of Minerals and Energy (1999-2005) and briefly served as acting minister of Arts, Culture, Science and Technology in 2004.
Ms. Mlambo-Ngcuka established Umlambo Foundation in 2008 to provide support to schools in impoverished areas in South Africa through mentorship and coaching for teachers and in Malawi through school improvements with local partners.
Ms. Mlambo-Ngcuka holds a Master's degree in Philosophy in Educational Planning and Policy from the University of Cape Town (2003) and a BA in Education from the University of Lesotho (1980). In 2003, she was awarded an Honorary Doctorate from the University of Western Cape.
Born in 1955, Ms. Mlambo-Ngcuka is married with three children."
She is expected to take up her position at UN Women in August.