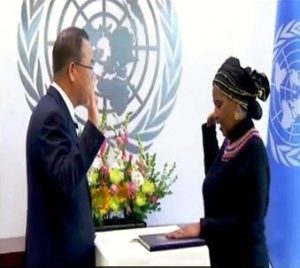 The swearing of former South Africa's Deputy President Phumzile Mlambo Ngcuka as the new executive director of United Nations Entity for Gender and Women's Empowerment (UN Women) was presided by UN Secretary-General Ban Ki moon at a ceremony Monday at the UN Headquarters in New York.
Ms Mlambo-Ngcuka pledged to exercise in all loyalty, discretion, conscience and functions entrusted to her as an international civil servant of the UN to discharge her duties and regulate her conduct in line with the UN. She also pledged not to seek or accept instructions from any government or other external forces to the organization in regards to how she performs and executes her duties.
After the swearing in ceremony, Ms Mlambo Ngcuka told South Africa Broadcasting Corporation in an exclusive interview on the sidelines at UN that "It's just so big, the complexity of the issues that affect women, the extent of violence, in some ways in this kind of work, you make breakthroughs but things are complicated. Sometimes you may feel that there are new challenges, but one would have to take it one day at a time and give ones best anytime you have a situation in front of you. And try to make an impact that is sustainable because that's the important thing that we create systemic changes, so that some of the road we travel we don't have to travel again," Mrs. Mlambo Ngcuka said.
Ms. Mlambo Ngcuka was appointed as the second Executive Director of UN Women by Secretary-General Mr. Ban on July 10, 2013 to lead in advancing gender equality and the empowerment of women worldwide.
Mr. Ban said Ms. Mlambo-Ngcuka brings to her new position a wealth of experience in advocating for women's issues "with a combination of strategic leadership, consensus building and hands-on management experience. She is the first woman to hold the position of Deputy President of South Africa from 2005 to 2008. She became a Member of Parliament in 1994 chairing the Public Service Portfolio Committee. She was Deputy Minister in the Department of Trade and Industry (1996 – 1999), Minister of Minerals and Energy (1999 – 2005) and briefly served as acting Minister of Arts, Culture, Science and Technology in 2004.
She replaces her predecessor Michelle Bachelet, former President of Chile who resigned in March to run for a second term as President of Chile.
Oisika Chakrabarti, UN Women Senior Communications & Media Specialist says Ms Mlambo-Ngcuka will hold her first press conference in early September
Un Women was created by the UN General Assembly in July 2010 to accelerate the Organization's goals on gender equality and the empowerment of Women. According to its website, the creation of UN Women came about as part of the UN reform agenda, bringing together resources and mandates for greater impact.