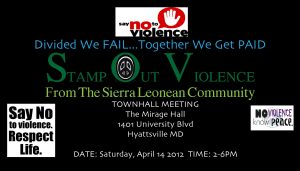 There has been a huge upsurge in violence in the Sierra Leonean communities of Washington, DC, Maryland and Virginia (DMV Zone).
The violent trend is so alarming, concerned Sierra Leoneans in the DMV Zone have to call an emergency Stamp Out Violence Townhall Meeting Saturday, April 14 at the Mirage Hall in Hyattsville, Maryland.
Yolanda Thompson, Esq. a ranking organizer and attorney based in Silver Spring, Maryland frustratingly said "violent activity by Sierra Leoneans against other Sierra Leoneans in our community has now escalated to individuals being maimed or even losing their lives."
The latest victim to this nonsensical violence is 34 year old Aiah Nyanga Tongu of Greenbelt, Maryland. Authorities say Tongu was involved in a fight on March 18, 2012 with two other Sierra Leoneans and died later that day at a hospital.
The medical examiner's office told Prince Georges County police that Tongu's death has been ruled a homicide and two suspects 26-year-old Teddy Kaikai Marchant and 36-year-old Alhaji Abu Bakarr (both Sierra Leonean immigrants) are being held in connection with the killing of Tongu.
Sierra Leonean recording artist and reggae star JayARR who has resided in the metro Washington, DC for over a decade said he had attended a 5 year old birthday party in the 9700 block of Martin Luther King Highway in the Lanham section of Maryland on that fateful night where Tongu was also a guest.
He said after the party he and Tongu chatted as they normally do at Sierra Leonean events then he left for the parking lot to pick up his car. JayArr added that coming from the parking lot heading home, he saw Tongu sitting on the curb with other party goers surrounding him. He stopped his car and helped out until a friend took Tongu to the hospital.
"I was shocked to hear that Tongu had passed when I woke up the following morning. Tongu was a very cool guy, the last person to be involved in violence and nonsense. He was an aspiring music producer and one of the best goalkeeper in the area playing for the Itals, a Sierra Leonean football club."
Still, JayARR lamented that "enough is enough, because the violence is getting to a point where if we don't take a stand, it will affect everyone in our community, the way we are perceived by businesses but most importantly the trend is giving us a bad reputation with the authorities and with other Africans in the area."
In a previous incident, on April 17th last year, Prince Georges County Police Department Homicide Unit arrested 3 Sierra Leoneans including Alusine Kanu, 22, Ransford Caulker, 25 and Tanseh John Nicholas, 25 in connection with the homicide of Oluseun A. Fashina, 23 in Glendale, Maryland.
So, organizers say they are organizing Saturday's Townhall meeting on Saturday, April 14 from 2:00pm – 6:00pm to discuss and address this urgent matter and hopefully come up with solutions to stamp out violence within the Sierra Leonean community.
"We are recovering from a decade-long war where many lives were lost to the hands of other Sierra Leoneans. We cannot afford to revisit those days of killing one another, it is up to us to support our fellow Sierra Leoneans, not destroy them," concluded Attorney Thompson.
Saturday's Townhall meeting is free, for more information and direction please contact: Paul Bee@ 202.594.0836, Ms Yolanda Thompson@ 301-974-9592, JayARR@ 657.206.5962, Al@202.473.1929, SLMTV, SLFUNTV.