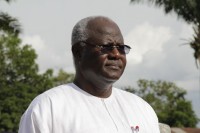 The report cards for the performance of state institutions to deliver their services to the people have been released in Freetown.
At a State House ceremony, Ministries, Departments, Agencies, Local Councils and tertiary educational institutions also signed new performance contracts for the current year, 2014 with President Koroma.
Addressing the heads of the various institutions and their representatives, President Koroma noted improvements in their performances despite challenges in resource mobilization and capacity building.
He congratulated the best performing state institutions and cautioned non-performers to endeavour to achieve their objectives as appropriate actions will be taken, when necessary.
He therefore requested for additional information on why non-performers failed to deliver on their various contracts and disclosed that government is in the process of reviewing the over-all performance of the public sector.
President Koroma commended the office of the chief of staff for the objective and transparent way the performance contracting process has been implemented.
Earlier in announcing the results, the State House Chief of Staff, Dr Richard Konteh observed that the process fulfills stakeholders' expectations and enhance the performance of various institutions.
However, the ministries of finance, education, Tourism and Culture were not assessed due to non-participation in the process.
In this regard Dr Konteh disclosed that the ministry of Water Resources emerged as the best ministry, Makeni City Council the best local council closely followed by Bo city council with the best agency as the Environmental Protection Agency and the best commission being the National Commission for Social Action (NACSA).
Njala University emerged as the best tertiary educational institutions for the second year running followed by the Milton Margai College of Education and Technology.
He added that every District Local Council and commissions improved their performance, noting that the performance of agencies generally improved that of their respective ministries.
Secretary to the Cabinet Ernest Surrur who chaired the ceremony, noted that Sierra Leone introduced the performance contract system in 2008 and cascaded into all levels in the public and civil service.
He said over the years, President Koroma has demonstrated strong commitment towards the performance contract system as government recognizes it as a flagship programme, calling on civil servants to commit themselves to government business.
He said that the process leading to the signing of performance contracts has been exhaustive and consultative and wished all to score high marks for the 2014 performance contracts whilst commending civil society organizations and the media for their relentless monitoring of the process throughout.
The performance contracts between the various institutions and President Ernest Bai Koroma for 2014 were signed by their heads and witnessed by supervising Ministers and Agencies.