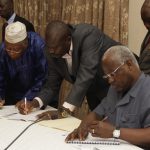 President Koroma and his Public Contractors at a Contracting Ceremony
FREETOWN, SIERRA LEONE – State leaders of six local councils and seven heads of government Agencies have on (Tuesday) 6th September, 2011 signed performance management contracts with government at a ceremony held at State House Freetown.
Tuesday's signing of performance management contracts by districts and municipality heads of Bo, Kenema, Bombali, Makeni, Koidu, Kono, New Sembhun, the Sierra Leone Maritime Administration, Sierra Leone Standards Bureau, the Pharmacy Board, the National Revenue Authority, National Public Procurement Authority, the Sierra Leone Police and National Social Security and Insurance Trust is in consistent with previous contracts signed with Cabinet Ministers and Permanent Secretaries.
Addressing Mayors, District Council Chairmen and heads of MDAs, President Koroma said he passionately believes government has finally reached new levels with transparency and accountability in the signing of contracts with Departments and Agencies.
"When I was seeking the mandate of the people of Sierra Leone I made a commitment throughout the length and breadth of the country that if the opportunity is given to me to serve as President I will lay the basis of a transformed Sierra Leone, and I will run the country like a business", recalled President Koroma.
He observed that there were some apprehension as some people did not even understand what he meant by running the country like a business. The Head of State maintained that even as he spoke there is still misunderstanding of what it means by running a government like a business.
"I knew what inherited from the past government in terms of the status quo at performance level and work within the civil service and local government. I did not have to reinvent the wheel as only the adoption of best practices that resulted in the "Agenda for Change" which is our road map in the transformation process", President Koroma disclosed.
Dilating further on the "Agenda for Change" the Head of State said it is a document with a life span which requires government to achieve certain deliverables in 2012. He said there were reluctance, acceptance, rejections and difficulties at the introductory stage of the Agenda for Change which was what he expected when change is being introduced as it is no more business as usual.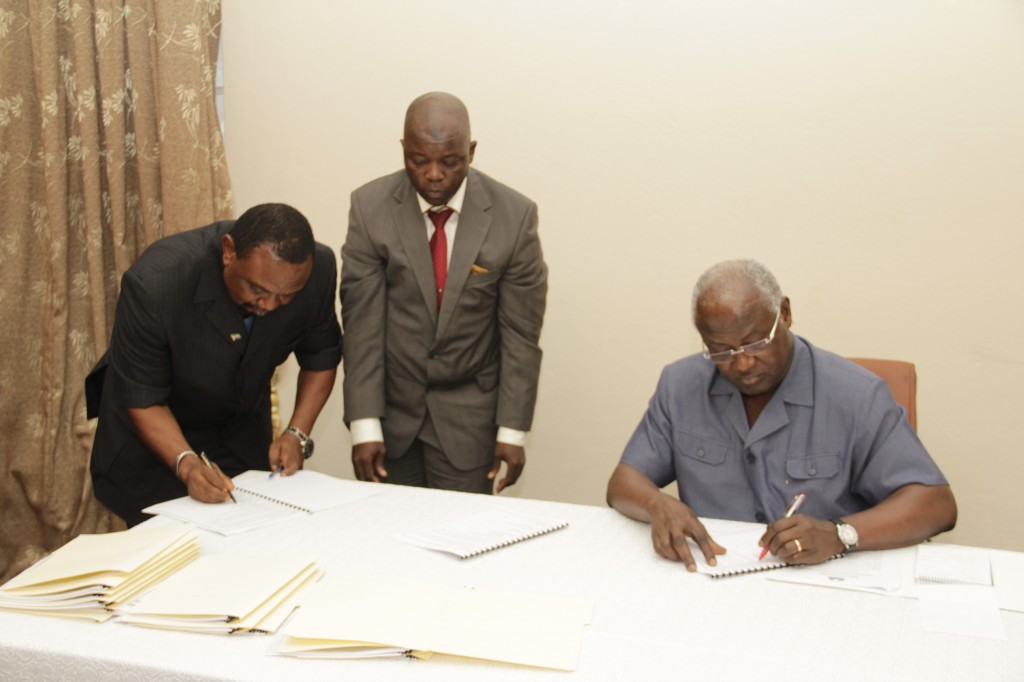 The President said there was no clear cut road map, no target not even to talk of accountability and transparency in terms of budget management in the past, whereas in the case of the "Agenda for Change"; "we really have to lay the basis of the building block and the house and ensure that it must be built to completion".
"We should lay the basis for the transformation of Sierra Leone for us to meet certain targets and ensure that there is efficiency in service delivery. We have to ensure that time limits are met and then we go on with that progression", said President Koroma.
He maintained that the provision of services is not only limited to the public sector, but also to local government. "As a government, we are committed to the devolution process which is why we have devolved functions and provided funding to the local government than any other government institution and we are committed to doing more", he vowed.
President Koroma however cautioned that in the process there must be value for money and effectiveness in the devolution process and that local government should be able to review their performance and develop their capacities.
"Mine is not a policy of empty talk. We must back our words with positive action which is why we have initiated the idea of performance management contracts and it will continue as we have so much to do to transform Sierra Leone from a low-income to a middle-income country and I believe we are on the right track", said President Koroma.
He encouraged all to be watchdogs and monitors for the process, as it will open room for transparency and accountability thus everybody should be in it together to ensure that service providers don't work in isolation.
The State House Chief of Staff, Dr. Kaifala Marah said is through the signing of performance contracts that China and other Asian nations were able to reduce poverty.
"We have to move away from the age of business as usual", he said noting that, "the signing of the performance contracts is not a way of putting people under duress but to enable government push the country forward".
"If we must take the Agenda For Change forward, then we must take along with us the President's vision, and encouraged state leaders while describing the contracts as a gate way to efficiency in consistent with synergy to enable Ministers of State work in harmony with local councils.
Local Government and Community Development Minister, Dauda Kamara said the signing of performance management contracts have become an important feature in the government of President Koroma and disclosed that he was the very first minister that signed his contract.
Minister Kamara said the performance contracts channel works of every ministry and there are always advantages on the parts of those who sign the contracts. The Local Government Minister added that the contracts are extensions of previous contracts that have been signed by ministers.
The Director of Public Sector Reform Unit, Dr. Julius Sandi said government is undertaking the signing of performance management contracts with state actors in order to maximize service delivery. Dr. Sandi said the process does not only stop at the pending of signatures on contract documents but goes beyond the offering of quality service in a timely manner.
He told public servants should remain committed and result oriented as the process cannot be achieved in insulation, but through team work.