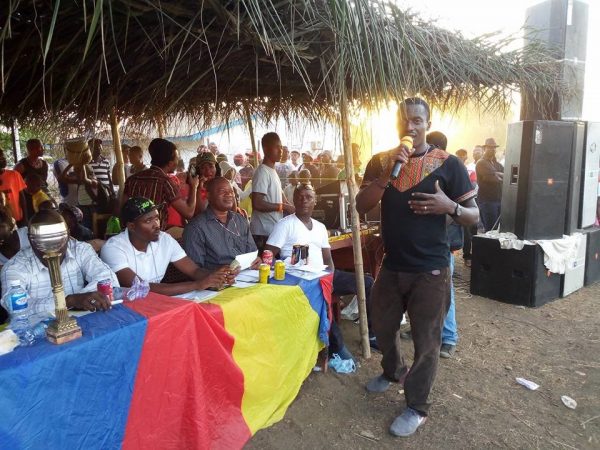 Emmanuel Conteh, one of Sierra Leone Philanthropists based in Italy, has presented one hundred (100) scholarships to the A.D Wurrie Secondary School in Lunsar, Marampa Chiefdom.
The presentation was done Saturday 24th February 2018, at the school Annual Athletics Sport Meeting held at the school ground in Lunsar.
Presenting the certificate to the school, Mr. Conteh described the current educational system in the country as appalling, adding that much needed to be done by all stakeholders in the educational sector to ensure that they revive the sector. He maintained that he is giving out these scholarships in order to encourage the pupils to do more and to inspire them to focus on their education and also prepare their minds for the challenges ahead. "I hailed from Lunsar, I know how it look like going to school without support; giving back to my people is one thing I will always do, as its makes me fill happy and fulfilled," he said. He disclosed that the 100 scholarship will be shared among the best student and the less privilege pupils so as to enable them attained better education.  He called on the school administration to continue their hard work in impacting knowledge in the minds of the student and appeal to them to instill confidence in the student so they can represent the chiefdom as and when they are chosen to do so. He calls on the school administration to carefully choose the beneficiaries so they those that are within the set criteria benefit from the scholarship. He encouraged the pupils to be focus on their studies and urge them to take their studies with the utmost seriousness it deserved.
Speaking on behalf of the school, the Principal A.D. Wurie Memorial Secondary School, Ibrahim Murray Tarawally expressed his thanks and appreciation to Mr. Conteh for providing the pupils with such amount of scholarship especially during this academic year. He assured that they will do all they can to ensure that they share the scholarship to all deserving pupils in the school. He revealed that A.D Wurrie Secondary School is among the best schools in the district and their track record speaks for itself. He maintained that the school have trained and qualified teachers who are ready at all times to impact knowledge to the pupils.