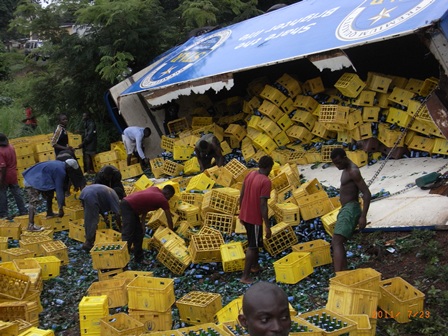 SweRoad contracted by the World Bank to embark on a study aimed at "reaching a consensus with Government of Sierra Leone and multi sectoral stakeholders on improving road safety management capacity in the country" has said in a draft final report presented to GoSL and key stakeholders that "there has been a general oversight and neglect" regarding road safety issues "at virtually all levels".
"Despite the support of development partners" towards road transport investment, SweRoad said "there has been no focused emphasis and investment towards road safety by Government". Road safety institutions it added operate "dysfunctionally" with each institution "working without clear road safety targets".
One major pillar slated in GoSL "Agenda for Change" and for which huge donor and state resources have been directed at, is road infrastructure. However the desire to construct new roads has not been matched with the determination to make national roads safe leading to unnecessary deaths.
GoSL in a budget read in Parliament last year allocated Le 85.7 billion under the domestic development budget for the rehabilitation of streets in district headquarter towns and Freetown. This covered GoSL contribution to ongoing donor-financed road projects.
Government also allocated an amount of Le64.8 billion from Road User Charges to the Road Maintenance Fund for road rehabilitation and maintenance. Overall budgetary allocation for the roads sector, including an amount of Le 133.5 billion for donor-financed projects, is estimated at Le 284 billion or 19 percent of total expenditures.
Road safety coordination as stated by SweRoad is "entrusted" to SLRTA. "Unfortunately", SLRTA is "not performing" its role "effectively". Road accident data collection is "extremely poor" and the general vehicle fleet especially public transport, it added, is "extremely old and unsafe."
Road safety committees established hurriedly last year by SLRTA "to raise road safety awareness" according to SweRoad, lack proper coordination and "resources to perform their duties, rendering them redundant". Police "enforcement" it said "is compromised" and road safety audits are not carried out.
There is however a "strong political will" according to the report "to address the poor road safety condition" in the country. At the policy implementation level, plans are already in place as disclosed by the Head of SLRTA Dr. Sarah Bendu to establish a National Road Safety Commission in the shortest possible time.
On resuming work, the SLRTA boss has travelled right round the country holding consultations with key road safety partners, and has openly declared "the fight against road carnage" her top most priority for 2012. But until a lead road safety agency is established, SweRoad has prepared a 3-year investment strategy which was approved in July 2011 by major road safety stakeholders in the country.
An estimated budget of US$2.435m was agreed on by road safety stakeholders in a consultative meeting convened by the Ministry of Transport and Aviation in July last year. US$0.977m of the proposed budget was directed at Technical Assistance and USD1.448m for the procurement of "road safety logistics" for the police. The budget is designed to "cover the time gap" until a national lead agency is established.
There comes in the question of funding. Who should fund road safety activities in Sierra Leone? Government of Sierra Leone or donor partners? The World Bank (WB) has contributed immensely to Sierra Leone's road infrastructural projects including support to SLRTA and SLRA. In 2005, WB allocated a grant of SDR 30.4 million (USD 44.0 million) under the Infrastructural Development Project to fund road projects. However direct support to road safety has not been made.
The European Union EU is giving support to both RTA and SLRA. 4.2 million Euros (5.6million dollars) has already been slated for a period of six years. EU like the World Bank is not directly involved in road safety activities. Funding mechanism for road safety has been through consolidated budget. It has however been difficult to dedicate expenditure for road safety compared to other activities. This has meant neglect of road safety.
The Road Fund established in 1989 to finance "routine and periodic maintenance of trunk and feeder roads currently" according to the SweRoad draft report "allocates no resources to road safety". SweRoad said in the draft report that "consultations" aimed at exploring funding for road safety from the Fund was "met with reluctance" and reasons given was that "funds received are too low to cover road maintenance".
While we struggle to establish who pays the bill, people continue to die on the streets and roads of Sierra Leone. Every 6 seconds someone is killed or seriously injured on the world's roads. With 1.3 million road deaths each year this is a global epidemic comparable to Malaria or Tuberculosis.
Road crashes are the leading global cause of death for young people aged 10-24, and by 2015 are predicted to be the leading cause of premature death and disability for children in developing countries aged five and above. Already, according to Unicef and the WHO, 260,000 children die and another 10 million are injured in road crashes every year.
Nine in ten road deaths and injuries are in developing countries. The economic cost to these countries is estimated by the World Bank at up to US $100 billion a year (equivalent to all annual overseas aid from OECD countries). The overall cost of road accident in Sierra Leone is however unknown, but experience in Africa shows that road crashes cost about 3% of the country's GNI. This means that Sierra Leone with an average fatality rate of 40 per 10,000 vehicles loses about USD 58.5 or more, and is bound to continue if something drastic is not done to arrest the situation.