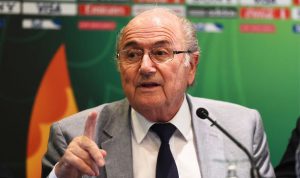 It is not surprising that the corruption scandal is the only news story on our British screens these days. It is gut wrenching that it is now an open secret of what we all knew but could not prove all along, that FIFA had been presiding over a cabal of crooks and dishonest gangs of people who have nothing, and should never have had anything to do with football. The recent revelations about bribery and corruption have not only thrown FIFA to the dogs, but is also threatening to bring football, as a sport to its knees. But before we all rush to throw stones at FIFA, it might be well advised for those that are shouting from the roof tops to take a good look at themselves before casting the first stone.
It is a laudable feat by the American authorities to apply the handbrake to this cancerous disease that was gnawing and eating into the fabric of the beautiful game. There is no point in emphasising the disgust with which this scandal has been greeted from all four corners of the world. With all the allegations and protestations that are flying around, one is left to wonder whether there is much difference between the saints and sinners of this saga. Take Jack Warner, the former FIFA vice president for example, who claimed in an extraordinary TV appearance on Wednesday that "he fears for his life" and that he "will prove a link between soccer's governing body and the national elections in his native Trinidad and Tobago". (Trinidad and Tobago's C News).
Warner is the subject of an Interpol Red notice, and was arrested, held in jail overnight in Trinidad last Wednesday and released on bail, had initially denied any wrong doing. In his recent televised broadcast, he claimed he had documentation that could prove a link between key FIFA officials and the 2010 Trinidad election. He stated that he "will no longer keep secrets for them" and that the documents "also deal with my knowledge of transactions at FIFA, including – but not limited –to its president, Mr. Sepp Blatter". So why is this man who pleaded innocence initially, has suddenly become a canary? What's the deal here? In the meantime, Warner has been challenged by Prakash Ramadhar, a political leader of the COP in Trinidad, to produce his evidence.
Just a few weeks ago, there was allegation that some unnamed brands were responsible for choosing the Brazilian teams. During the 1998 world cup finals in Paris, the original Ronaldo was the best player on the planet. He was reportedly ill on the day but was "reportedly forced" to play in the finals. Conspiracy theorists have always maintained that it was pressure from, and due to contractual agreements with sponsors of the Brazil team that he had to play, despite his illness. When Nike lost the battle as official sponsor of the World Cup to Adidas in the 1990s, a deal worth $160 M was signed with Brazil. Allegations are now emerging that Nike paid tens of millions of dollars into a Swiss bank account outside of the original sponsorship contract. These have since been alleged as "bribes and kickbacks" by the US. Nike is headquartered in the US and Blatter is Swiss; no relation there, and none intended. What's the hope that the FBI will go the whole nine yards with this? Talk about biting the finger that feeds you.
It is no secret that UEFA and FIFA have been the strangest of bed fellows in world football. The mouth- watering sponsorship deals, the universal appeal of World Cup tournaments and being the high priest of everything football by FIFA, is enough to induce the green eyed monster in UEFA. It is therefore not surprising that the loudest noise of condemnation have come from UEFA and its members. Sadly enough, UEFA and especially the English FA are first in the queue to throw their babies out of the pram; each time they fail to get their way. Monsieur Platini and Greg Dyke had been leading calls for a breakaway from FIFA or a possible boycott of the World Cup, until Blatter announced his resignation. A planned UEFA meeting in Berlin, for which Monsieur Platini did not rule out the possibility "that UEFA may choose to pull out of FIFA" was only called off with Blatter's resignation. They had questioned the ethics surrounding the Russian and Qatar bids. It is funny that Monsieur Platini, who is now crying foul actually voted for Qatar in that election.
The English FA, led by Greg Dyke is conveniently shouting above the roof tops about corruption in FIFA. During the FA's bid for the World Cup, was this not the same FA that enlisted the political, royal and showbiz muscles of Mr. Cameron, Prince William and David Beckham respectively to win the country the right to host the 2018 World cup? Nothing wrong with that, but in a bid to get the World Cup, did the FA not send the England team thousands of miles away to play a meaningless and self-aggrandising friendlies in the back yard of Jack Warner, Trinidad and in Thailand?
In his bid to do his bit for his country, Prince William naively you may say, even gave Jack Warner a private audience. When Blatter visited England then, you would have been forgiven to think that he was a head of state. Blatter is portrayed as the Don of kleptomaniacs today, but back then the FA was all too ready to wallow in the same cesspit; when it suited them. In the light of recent developments, more than anything, the outcome showed that England was not even good at corruption. Those that have been clamouring for a boycott of the World Cup need not waste their breath. We have eleven guys who do that for us anyway; they are always back home before the first postcard could say" Royal Mail".
But why are people feigning surprise at the scale of corruption that has gripped FIFA? Blatter had been at the helm for so long (17 yrs.), that even Robert Mugabe is envious. Is that not a recipe for corruption? How do you think he won all those elections, sorry selections hands down or unopposed? The search for his successor will soon gather pace following his resignation. Will that transform FIFA into a saint? Not if the sponsors have anything to do with it.
It is all well and good to condemn Blatter and FIFA, but to do so without taking into cognisance the paradoxical influence of the sponsors will be utterly foolish and misleading. The symbiotic relationship between the sport and its sponsors make corruption of any colour unavoidable. The world of the sponsors is cut throat business; and the sport needs the money from the sponsors to oil the football machinery. These sponsors plough deep to keep the ball rolling (pardon the pun, and they will do whatever it takes to swell their coffers. We know what follows big bucks; GREED. Any hopes that the end of the Blatter reign will sanitise FIFA? Don't hold your breath; just a change of driver?
But where next for Blatter and FIFA? The resignation of Blatter has seen some Football Associations coming out of the woodwork and hankering to offer alternative hosting facilities for the 2018/22 World Cups; all in the vain hope that the corruption scandal will lead to a change of venues. Boris Johnson has offered England if the need arises. With all the financial implications involved in the ongoing preparations of the hosting nations of Russia and Qatar, it is inconceivable to see how these could be scrapped. The questions that need to be looked at is how was FIFA allowed to get away with this for so long?
When you look at the longevity of the heads of the 209 Associations of FIFA, it becomes glaringly clear why corruption has been allowed to festoon in the organisation. Take people like Jack Warner (CONCACAF 1990-2011), Issa Hayatou (CAF 1988-present), and Blatter (1998-2015) among others. They have been with FIFA for so long that corruption had become the palm oil with which words were eaten. For Blatter to be elected, sorry selected for 5 terms consecutively is self -explanatory of the corruption and fiefdom that was rife in FIFA. They say that power corrupts and absolute power corrupts absolutely. One way forward may be to cap the terms of office for these positions. Even Obama and Ernest Koroma are not allowed to serve more than 2 terms in office. Until the recent corruption scandal, it looked like these guys were destined to hold on until death do they part.
America and the FBI should be lauded for bringing FIFA to account. However, America should not be allowed to take over FIFA. For starters, we will be forced to call it soccer and the viewing public will suffer from death by commercial breaks. Lest we forget, for every one bribe giver, there are ten takers. America will do well to take a good look at the big corporations in its own backyard, while pursuing its holier than thou crusade to sanitise FIFA. UEFA president Monsieur Platini voted for Qatar, but he seems all too happy to cry foul. The hope is that the FBI will leave no stone unturned. By the look of the scale of corruption, it is hoped that many heads will roll. Don't hold your breath. Jack warner is suddenly all too ready to sing; what's the catch? Is corruption, nature's way of restoring our faith in democracy?
Don't forget to turn the flood lights off when you leave the pitch.