Wonders shall never end… Here we are again… the country is perpetually placed under state of emergency even though the Ebola outbreak has been contained by foreign medics. Though schools and tertiary institutions have been reopened but freedom of movement for ordinary citizens still remain restricted, as intimidation and cash collection points (sorry) checkpoints are still mounted along highways where innocent travellers are forced to leave their vehicles and wash hands with dirty (sorry) chlorinated water that contribute nothing to the war on Ebola.
President Koroma has insisted on the ban on public gatherings as a measure to prevent his citizens from contracting Ebola. Many decent citizens are being arrested, molested and even charged to court in recognisance of the ban on public gatherings. Even the country's independence anniversary which fell on 27th April was never celebrated as the president insisted that the ban on public gatherings was crucial in the war on Ebola.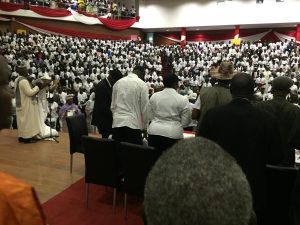 Ironically, the ban imposer, President Koroma is seen today presiding over the largest public gathering in Sierra Leone in 10 months' time. The frivolous gathering can be estimated at 500 guests and it's attended by all cabinet ministers, party executives, traditional leaders, family members and ordinary party sympathizers. This clearly tells the world how effective the Koroma's administration is using Ebola as a weapon against his own people.
Is the ruling APC above the law?????