Charity and aid have failed Africa and its leading entrepreneurs are now driving the continent's development agenda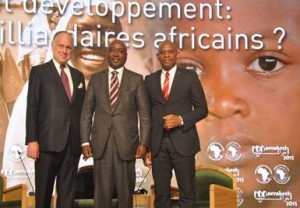 This was the sentiment of Tony Elumelu's speech, described by many as "powerful," which was delivered at the African Development Bank's (AfDB) Annual Board of Governors meeting held in Marrakech, Morocco. The speech was followed by a panel discussion moderated by the BBC presenter Zeinab Badawi with Ronald Lauder, founder of the Ronald S. Lauder Foundation.
Elumelu challenged the audience to consider a new approach to Africa's development – one that involved the private sector and was capable of kick-starting the economic ecosystem that underpins all sustainable development. He called this new approach Africapitalism, an economic philosophy which asserts that the private sector can solve Africa's most pressing challenges through long term investments that create economic prosperity and social wealth.
In front of a global audience that included African finance ministers, central bank governors, CEOs, and executives of global development finance institutions, as well as African business leaders, including some past presidents, development partners, and African and global philanthropic institutions, Elumelu spoke of the failure of traditional development interventions which have previously characterized development in Africa.
The president of the African Development Bank, Donald Kaberuka, described the speech as, "rich in human quality and compassion," and recognized that it "set out the challenge for home-grown African wealth, whether of billionaires or small businessmen, to invest in Africa."
Elumelu, who is Chairman of Heirs Holdings (http://heirsholdings.com), a proprietary investment company and founder of The Tony Elumelu Foundation, called for the private sector to take on the responsibility of development using his personal experience at the United Bank for Africa (UBA).
He made a compelling case for Africapitalism by telling the story of how a USD5 million investment in UBA 17 years ago spawned a multinational, pan-African financial institution that has created 25,000 jobs, generated wealth in communities all across Africa, expanded finance for trade, created stronger financial infrastructure for investment and economic growth, paid taxes to national and local governments to support public services, and given millions of customers control over their financial lives.
He compared that investment to the annual flow of charitable aid into Africa – many times the USD5 million investment that started UBA – to show that private sector involvement was a far superior, more effective way of dealing with Africa's development challenges. Elumelu's investment company Heirs Holdings' recent USD300 million investment in a power plant in Nigeria was another example of a long-term, profit driven investment that would bring development to Africa.
Elumelu mentioned other strategic visionaries who were also playing a significant role in driving the continent's development through their business investments: Aliko Dangote and Mike Adenuga in Nigeria, Lucien Ebata in the DRC, Reginald Mengi in Tanzania, Patrice Motsepe in South Africa, Kofi Amoabeng in Ghana – these are entrepreneurs who are creating tens of thousands of jobs, empowering individuals, families and entire communities.
In a call to action for the continent's entrepreneurs and business leaders who have not yet embraced Africapitalism, he pleaded with them to 'step up' and deliberately start investing in strategic sectors that would drive development.
"We need to do away with short-term thinking. We should be investing over time horizons measured in decades, rather than fiscal quarters. We must stop the practice of extracting wealth without reinvesting for growth. We should be strategically building domestic industries and manufacturing to support our national economies, and growing intra-African trade," he said.
In concluding, Elumelu called on the philanthropic and charitable communities of Africa, the development banks and the private investors to embrace the philosophy of Africapitalism and recognize that the private sector's role in driving economic prosperity is the solution for development.
"Economic prosperity is the most valuable and lasting gift we can give to a continent with our challenges. We need to support solutions that are catalytic and sustainable. That should be the ultimate goal of our "development" mission.