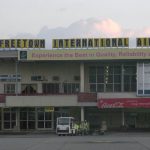 The General Manager of the National Tourist Board (NTB) Cecil Williams has revealed that the number of people arriving at the Freetown International Airport have risen by an appreciable level. Speaking in an interview with newsmen he disclosed that "the tourist arrivals has increased by 58% compared to the first half of last year". He explained that according to "our own definition of a tourist (it is) anybody who comes to your country and stays more than 24 hours is a tourist. So whether you come for sports purposes, (or) you come for tourism purposes, (or) you come for business, conference or whatever it is you are a tourist."
The NTB General Manager explained that they get their information from the immigration cards which are filled on arrival at the airport. In the first six months (January to June) of last year 2010 17,670 arrivals were recorded. Figures for this year (January to June) 2011 show that 27,878 tourists have arrived in the country, indicating that 10,209 more people have come in this year (2011) than did last year (2010). This is a 58% jump in the arrivals over last year.
Of the five category of arrivals which includes those on Holiday, those Visiting Friends and Family(VFR), those for Business, Conference and Others, it is the business group who record the highest number of 8,736 within the first six months of this year. This is followed by those on holiday (7,177), VFR (4,792), Others (4,065) and Conference (3,108). The reason for the conference numbers being so small could be put down to the capacity of the industry to support large groups for conferences.
The NTB General Manager explained that "Going back to 2007 to now if you look at the increase in bed capacity approximately 350 beds have been added to the hotel stock, either through new hotels that have been developed or constructed or expansion of facilities." He disclosed that for example "Barmoi has now increased from 32 to 50 bed rooms", there have been new developments "Taia was not here Taia opened about 2 years ago that is 32 bed room then Hill Valley has increased from 40 to 75 bedroom and of course up country Sahara Hotel has increased and so on." Cecil Williams put the jump in arrivals figures to the fact that "there is now increased awareness about Sierra Leone and as more development take place people are yearning to come and look at what are the opportunities that Sierra Leone has got to offer."