TRIBUTE TO THE CHIEF MEDICAL SURGEON OF THE UNITED METHODIST HOSPITAL: DR MARTIN SALIA OF SIERRA LEONE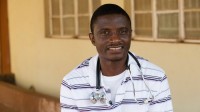 Once again, the somber valleys and hills of Sierra Leone are echoing the hallowed cry of grief and sadness for the passing of a national hero, Dr. Martin Salia, who tragically lost the battle against the deadly Ebola Virus at the Nebraska Medical center in the United States of America on November 17, 2014. Despite every effort to save his precious life and in the midst of the world's best equipped medical isolation unit with experienced Surgeons in the world, he could not survive the journey of hope he so eagerly wish to see for his beloved Sierra Leone.
Dr. Martin Salia's death marked a new turning point against the fight of the Ebola virus – that early intervention is so critical to the chances of survival. His message to every Sierra Leonean is one of doing the most good for the absolute welfare of our nation: Dr. Salia also summoned us to heed to our sacred callings and to know that we are the vessels of the Almighty God. "I firmly believe that God wanted me to do it." He said. "I knew deep within myself, there was just something inside of me, that the people of this part of Freetown needed help." Such moral inspirations reaffirmed the brave heart and the indelible spirit of compassion that Dr. Salia represented in every human imagination.
Dr. Salia did not choose Freetown because of ethnic or regional considerations. He went to help his people because they needed him. For him, the plight of Sierra Leoneans transcends every human calculations. He did what his country expected of him. He died for Sierra Leone so that our nation will be free from the savagery of an invincible virus that is costing too many lives and terrorizing a whole sub – region in West Africa. His death was an act of martyrdom and the ultimate redemption of the evil deeds that our nation has inflicted upon itself for so long.
Like Dr. Umar Khan, Dr. Modupe Cole, Dr. Rogers, Dr. Olivette Burke and Dr. Godfrey George, Dr. Salia did not run away from the sinister chapter of the untold human suffering that our people are going through. He traded the fanfare and his comfortable life in America leaving behind his beautiful and wonderful family to spread the gospel of love and compassion to humanity. He gave a new meaning to the definition of patriotism. That it is not the office of public service that determines your contributions to society; it is what you do selflessly to change lives and make our world a better place to live.
Dr. Salia reminded us that salvation is possible when we search deep down within ourselves and do what God wanted us to do both as a people and as a nation. And no act of moral courage and no amount of genuine goodwill will be enough to describe the outstanding contributions people like Dr. Martin Salia has done for Sierra Leone. Today, we can feel the sorrow and sadness of many Sierra Leoneans not only by looking into their hearts and souls, but by lifting our eyes above to see the tears of the weeping sky across our frighten nation. His death is a living testament that there are still prophets and angels among us – who may come every now and then to remind us of the unique character of goodness in the human personality.
Even as Ebola ravages our cities and towns, and leave behind a trail of death and psychological destructions, Dr. Salia left us a powerful message of hope and the renewal of a new national spirit. That our values and worth in life are measured by our capacity to love and do good to others without regard to geographical boundaries, ethnic manifestations, political party affiliations and gender bias. We are as strong as the positive imagination of our mind and our ability to make a difference that are valuable to the progress of every Sierra Leonean.
Indeed, we did not see a draped coffin lowered down for Dr. Martin Salia, nor witnessed a funeral procession befitted that of a King or President – but we know that he achieved the highest decoration of bravery and exceptional human achievements because of his priceless service to our country. The midnight stars across our nation today represents every courage and kindness he gave to the people of Sierra Leone. Dr. Salia's unforgettable memories will always shine in our cosmic universe and far beyond into the heavens. Future generations will come to know what he meant to us and how he tried to save a nation from extinction by a deadly disease.
Dr. Salia's life and legacy gave Sierra Leone reasons to make some comparative experiences. Those today who lead us into the wilderness of nowhere and who are insensitive to the unbearable plight of our people. And others who think our tragedy could be an opportunity to promote their personal ambition. Conversely, he made the ultimate sacrifice to redeem us from the lust of power and the destructive element of human greed. Our nation will be better tomorrow because he walked through the somber halls of the Kissy United Methodist Hospital to save lives.
Indeed, Dr. Martin Salia did not have the opportunity to thank the people of Nebraska and the United States of America for providing him the best medical support anyone could have. The people of Sierra Leone would like to extend their sincere appreciation and gratitude, on behalf of his wife and children, for the kind hospitality and medical care provided to him during his brief stay at the Nebraska Medical Center. Every Sierra Leone is so grateful for the extra ordinary help of the United States government in given a towering national hero every possible treatments to ensure his survival. We believe that the medical team at the hospital did all they could to save Dr. Salia's life.
The United States of America continue to lead not only in preventing the scourge of senseless wars and human right violations, but becoming the beacon of hope for freedom and democracy as well as providing the humanitarian resources to fight against the regional and global health threat of the Ebola Virus Disease (EVD). For that, we are always indebted to the hospitality and generosity of the American people. Sierra Leone will always be a partner of peace and democracy with the world's most democratic nation. Our people will stand with the United States wherever freedom is threatened and wherever peace is desired.
For millions of Sierra Leoneans at home and abroad, the patriotic doctor's passing will be remembered as a moment of great reflection of what we can do for Sierra Leone at this time, a time to understand the need to fight against a disease that knows no boundaries and ethnicity, and introspectively thinking deeply within the soul of our nation to either choose the righteous path of Dr. Salia or continue the psychological death that few individual citizens are blindly leading us into. Dr. Salia's road map to redemption and salvation is our best hope.
Rest in Peace Dr. Salia, we thank you for your service. You belong to the ages!