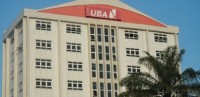 The innovations by United Bank for Africa (UBA), in providing convenient banking platforms for individuals and businesses have received global endorsement and recognition. The Bank has been named the "Best Transaction Bank" from Africa in 2014 by UK based magazine "The Banker". This is hinged on the Bank's e-banking platforms that have positively changed the way businesses manage their cash flow, payments, collections, liquidity, trade and value chain management across their business operations in Africa.
According to the magazine, the judges were impressed by the Bank's clear demonstration of the improvements made to its transaction services business. Jane Cooper, Transaction Banking Editor of the "The Banker" magazine, further said "the judges looked at entries that demonstrated a clear strategy, as well as improvement and progress in the last 12 months. Investment in technology was not the deciding factor, but rather improvements that are of real value to the bank's customers ".
Phillips Oduoza, GMD/CEO of the UBA Group, welcomed the announcement, noting that the endorsement validates the concerted efforts to ensure the Bank's customers across the continent, are offered the best and most convenient solutions that are most critical to their business processes.
"Our U-Direct Corporate offers a single platform solution for cash management to assist businesses and government in Africa to make payments, collections, manage cash easily, and even do trades. It has been well received because of its flexibility, automation, ease of doing business and cost savings.
A unique aspect of this product is that it allows busy executives to approve requests and view balances on their mobile devices", he stated.
Also speaking on the award, Yinka Adedeji, Divisional Head, e-Banking explained that the Bank has been able to innovatively apply technology to help both small and big businesses in Africa boost productivity and significantly reduce operating costs, thereby enhancing their competitiveness in a highly challenging business environment.
Additionally, he raised the need for more investments by African banks in improving their transaction banking capabilities especially in collections and payments as well as improve the security features of their transaction banking platforms.
As a highly diversified financial services provider and one of the largest financial institutions in Africa, with offices in New York, London and Paris, the UBA Group has strong retail penetration across the African continent with more than 7 million customers. These customers enjoy a bouquet of products and services tailored to meet their different financial needs and backed by a cutting edge e-banking platform that offers secured and convenient real-time online banking services.
Friday September 12, 2014