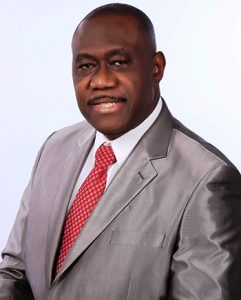 About two dozen United African Coalition (UAC) members held a press conference on the steps of Borough Hall and Courthouse Tuesday to announce the endorsement of Dr. Bola Omotosho as their candidate for City Council District 16 in Bronx, New York.
Dr. Omotosho, a Hematology-Oncology and Infectious Diseases researcher arrived in the United States with his family in 1995 after winning a Green Card lottery. Since 2007, Dr. Omotosho has served the Bronx as Chair of Community Board 5. He is married with five children
He is one of four unprecedented African candidates campaigning for the seat currently held by councilmember Helen Foster who will abdicate office due to term limit.
In a statement issued during a phone interview from his Bronx Headquarters office UAC Chair Gambian born Sheikh Moussa Drammeh said they "started the coalition this year because four of them (African candidates) publicly declared or were thinking of joining the race for one position. So the citizens of the African community felt that it is important that they should get guidance, meaning that we should come together as a community and find the most suitable among us and who has the best chance this year at this moment in representing not only the Africans but the district as a whole."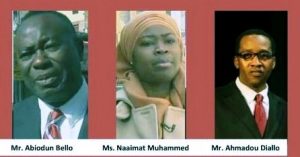 Drammeh also said UAC went through a thorough vetting process of the four candidates before endorsing Dr. Omtosho.
He said they issued each candidate a questionnaire on qualifications, resources in running an effective campaign, relationships with the district, vestige interests, name recognition and financial ability to run an effective campaign.
Drammeh went on to say UAC Organized two face-to-face meetings including two town hall meetings plus public questions and answers sessions. In addition, we had a third face-to-face where each candidate signed a memorandum of understanding
In her reaction to Dr. Omotosho's endorsement, Naaimat Muhammed, daughter of Ghanaian immigrants born in the Bronx and former Community Outreach Liaison for outgoing Councilmember Foster also vying for the seat said in a statement via email that "I applaud the Coalition in their development and desire to become involved in this electoral process. I wish their selected representative, Dr. Bola, all the best,"
Responding to a report by NY1 News online that UAC met with the candidates and they all agreed to pledge their support to whomever UAC winds up choosing, Muhammed said, "for the record, there was never such an agreement between the coalition and candidates but rather a communication of their desire for such action upon selection."
She added that she has "no intention of dropping from the race nor do I have any ill will toward the coalition and their selection. We all hold true to what we believe in which is why we are engaged in this election. I wish all of my opponents the best of luck as we forge forward for the best direction and leader of district 16."
Drammeh agreed saying that Muhammed is "right 100 percent, I don't know of any such agreement between our coalition and candidates. If there is any report to that effect, it is erroneous only candidate Abiodun Bello completely stated that he will support the wishes of the coalition."
Drammeh urged the media "to focus on the process of this historical campaign. Our goal is to have the Africans represented and not to create a division of arguments trying to find out who said what and who did what, that would be very counter-productive, that would be very sinful," he concluded
Svedre, an employee in the New York City Board of Elections office, who only wants to be identified by her first name, said New York City Council District 16 primary Election will be held on Tuesday, September 10, 2013