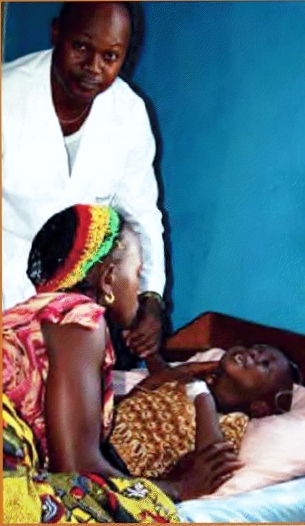 They were two unlikely roommates at Einstein College of Medicine in the Bronx, New York. Dan Kelly was born and raised in the Washington DC and Philadelphia areas. He never lived in poverty but was compelled to tackle health disparities in Africa. Issa Toure came to the US as a refugee during the civil war in Sierra Leone, West Africa, and obtained scholarships to attend college and medical school. Their backgrounds fueled their friendship, so after his third year of medical school when Dan left for Sierra Leone, Issa connected Dan with Bailor, a childhood friend.
Bailor Barrie came from a poor family and attempted to attend Sierra Leone's only medical school through the civil war. Working together in Sierra Leone, Dan and Bailor found that they shared the same passion, serving the poor and providing them with the best healthcare possible. . The two friends fulfilled this shared passion in 2006 when they moved to Kono and started a rural clinic to assist the treatment and transition of amputees in the war's epicenter. . They met with the necessary traditional authorities to obtain land to build the clinic and then returned to the US to look for financial assistance from generous donors.
The two young men were able to generate initial support from UNICEF, the American Embassy in Sierra Leone, and private contributors. The division of labor was becoming apparent: Dan would do most of the shuttling back and forth between the US and Sierra Leone, fundraising and submitting proposals and Bailor, given his cultural and linguistic familiarity with the terrain, would pretty much hold the fort and run the clinic as well as lead the various programs at the health center.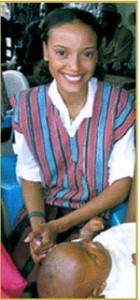 The idea of adding a maternal health program to the already existing primary health care facility was a natural expansion for the primary healthcare clinic. Women needed someplace where they could deliver especially during emergencies when they could not make it to the main Koidu Government Hospital. With a steady pool of patients, the directors of Wellbody Alliance could begin to implement a more comprehensive maternal health program that would encompass prenatal care, normal and emergency deliveries, as well as post-partum care to women and infants. Wellbody is still collecting data to assess the impact of their maternal health program and services since they opened upin the summer of 2011.
It also helped that Dan and Barrie came to know and befriend Tiffany Persons, founder of Shine on Sierra Leone (SOSL), an NGO that was initially set up to address some of the educational needs of war affected children in Kono. After Tiffany began a maternal health component of SOSL with the help of model Selita Ebanks and support of the First Lady, Madame Sia Nyama Koroma, and her WISH initiative she decided to hand over the implementation of this program to Wellbody Alliance and refocus her energies and attention on education. So at present, Wellbody is the only health center in Kono District with a comprehensive maternal health program and Dan and Barrie are as busy as ever with a local population that is growing to trust the clinic and the benevolence of its healthcare providers.