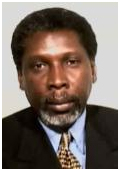 The World Bank has appointed Mr. Yusupha B. Crookes as Country Director for Ghana, Liberia and Sierra Leone. His appointment takes effect from 1st March, 2012. Yusupha will be based at the World Bank's Office in Accra.
Yusupha – a Gambian national, joined the Bank in 1983 as a young professional. He currently serves as Director of Regional Integration in the Africa Region. Prior to this appointment, he held senior managerial positions, including Country Director for Pakistan; Senior Manager and Sector Director in the South Asia Region.
Earlier in his career with the World Bank, he was Senior Manager in the Corporate Resource Management and the Oil, Gas and Mining Department.
Yusupha was also Sector Manager for Energy in the Africa Region, during which time he led high level Energy Sector review missions to Ghana, Sierra Leone and other African countries.
"As such, he brings to this new position, extensive operational experience in a variety of complex country and sector situations", says the World Bank.
In this new role as Country Director for Ghana, Liberia and Sierra Leone, Yusupha's top three priorities will be to work closely with the three partner countries to provide innovative products and services that respond to their diverse development challenges, and contribute to achieving sustainable economic growth and poverty reduction; lead and support his staff and the country management team, working closely with internal and external partners to enhance results on the ground; implement the priorities of the new Africa Strategy, while adjusting to corporate realities and opportunities.
Yusupha holds degrees in Economics, Finance and Accounting. His previous assignments at the World Bank covered various responsibilities in the Caribbean, Russia and Central Asia, Turkey, South Asia and various countries throughout Africa.
Prior to joining the World Bank, he worked in equity research and investment management in the United Kingdom.
With Ghana already exploiting its newly discovered oil wealth and hopes of Sierra Leone and Liberia soon to join the league of oil exporting nations, it is of little surprise that the World Bank has made this appointment.
The challenge for governments of Ghana, Liberia and Sierra Leone, as billions of dollars in oil revenue starts to flow significantly into their respective economies, will be the need to ensure that poverty, unemployment, and social justice are addressed, whilst spending on infrastructure and capital projects are prioritised.
It remains to be seen whether the new World Bank Director for those three countries, will indeed help in growing a diversified and balanced economy, driven by good governance and sustainable growth. Natural resource rich African countries need to break the affliction of resource curse that has blighted the continent for far too long. The role of the World Bank is crucial in achieving this.