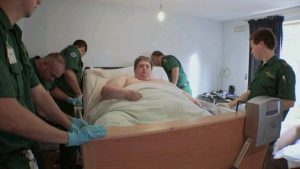 Keith Martin, of Harlesden, North-West London, has bee
n b
e
d-ridden for a decade and took the dubious accolade from Mexican Manuel Uribe who lost 60 stone to hit 31 stone after dieting. The round-the-clock care Mr Martin needs is to be shown in a documentary which will be screened later this month. Because his health is so fragile he has a team of 18 people looking after him – including his sisters, nurses and ambulance staff.
With a 6ft waist the former warehouseman, 42, is now wider than his 5ft 9in height.
Mr Martin's daily diet includes eight hotdogs and ham sandwiches for breakfast, a selection of chocolate bars and biscuits for lunch and two roast dinners with a whole bag of oven chips, the Daily Mail reports. He spends the day watching TV leaving his bed only for vital health check-ups.
Mr Martin is one of a million Britons who have developed the lethal condition which was triggered following the death of his mother. He is now 58 stones. A stone of weight in British colloquial is approximately 14 pounds, which means Mr. Martin is now 812lbs weight.
Mr Martin told Channel 5: "My mother died when I was 16 and I didn't care about anything after that and I couldn't care less about what happened to me – I ate anything and everything," the Mail quoted him as saying.
"I blame myself. It was my fault and I hate what I have done to myself." During the first episode of 'Big Body Squad' on Channel 5, viewers will learn how his army of carers battle to get his sheer frame home following a stay in hospital.
The series aims to raise awareness of the plight of those who suffer from being extremely overweight.
'Big Body Squad' begins on Wednesday, February 22, at 8pm on Channel 5.