Youth in Action for Development (YAD), a non-governmental organization operating in the eastern district of Kenema, has on Tuesday July 23, 2013 officially launched a new project titled "Youth Sensitization Campaign against Ethnic Voting, Religious and Cultural Discrimination in Sierra Leone".  According to the organization's Coordinator, Mr Othman Sheriff , the project is funded by the United Nations Alliance of Civilization (UNAOC) – Youth Solidarity Fund 2013.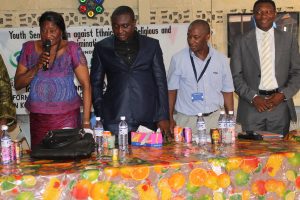 In his opening remarks, the Chairman of the occasion, Mr. Mambu  Yarjah welcomed all to the program describing Youth in Action for Development (YAD) as one of the forefront  youth organizations working tirelessly to project the interest of Sierra Leonean youths in the world stage.  He further called on stakeholders and beneficiaries of the project to underpin YAD's effort to sustain the project after it's official implementation period which begins form July to December 2013.
Giving the background of the organization and project, the Project Coordinator, Mr. Othman Sherriff said YAD is an apolitical, non-religious, non-ethnic, non-gender-biased, non-profitmaking organization with its efforts geared towards eradicating some of the socio-economic  problems faced by the youths, women and children in the region.
Mr. Sheriff further revealed that the main mission of YAD is to work with the youth and for the youth at grassroots level to complement the effort of the central government to maintain peace, democracy and sustainable development in the region by fostering socio-cultural cohesion and friendly network among the youth, engage them in education, skill-training and self-help ventures and to protect them from human-right violations.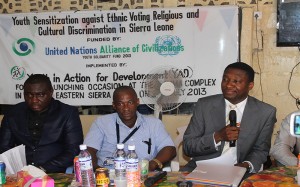 He further added that YAD's board consist of civil servants, traditional authorities, school teachers, medical personnel and tertiary students. He further revealed that over the years, the organization has been able to implement series of developmental projects in the Nyawa, Nongowa and Malegohun chiefdoms in Kenema district including agriculture and food security for youth and female heading households, road rehabilitation, construction of school and sport among others.
Mr Sheriff further reiterated that the current project which is being launched is called "Youth Sensitization against Ethnic Voting, Religious and Cultural Discrimination in Sierra Leone" and it's funded by the United Nation Alliance of Civilization (UNAOC). He said it all came about after he decided to develop a proposal on the project in January this year.  According to him, the project was approved after a very competitive selection and review process at the UN headquarters in New York. According to officials in charged, more than 500 applications were received by United Nations early this year and the independent selection and review committee was able to select only 35 proposals among the rest and named them semi-finalists.  The semi-finalists were then asked to submit relevant documents and clarifications to support various claims made in their proposals. After verification of those supporting documents, only 16 organizations, including Youth in Action for Development, were fortunate to be selected as the finalists and winners of the UNAOC's Youth Solidarity Fund 2013.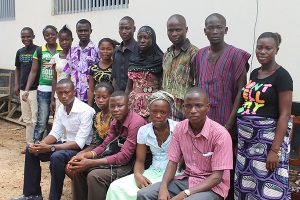 It must be noted that Youth in Action for Development is the only Sierra Leonean organization that has ever been able to go through the densely competitive project proposal assessment and review process.
In line with the specific objectives and outputs spelt out in the proposal, Mr. Sheriff further revealed that three youth groups namely the Gbo-Kakajama Youths Inaction for Progress, Nyandeyama Youth in Action for Development and Action Star Youth Club have been established in the three political zones of Kenema municipality with more than 200 membership. Registration, verification and democratic elections strictly monitored by YAD staff were conducted between 1st and 18th July 2013, which resulted to the election of 36 executive members representing the three groups. What makes the process more unique is the gender equality observed by YAD whereby equal number of both sex were elected in all positions.  Wherever a woman is elected for a particular position, she should be automatically deputized by a man or the other way round.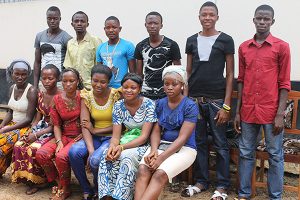 Outlining specific segments of the project, Mr. Sheriff explained that the project entail series of workshops, symposiums, drama, football, volleyball, radio outreach/talk-shows among others.
Delivering her address, the Deputy Mayor of Kenema City Council Mad. Esther Guanya Kaisamba, said that the launching of the "Youth Sensitization Campaign against Ethnic Voting, Religious and Cultural Discrimination in Sierra Leone" is a very important one as it is the order of the day in Sierra Leone that the average voter doesn't cast their votes for policy but individual identity.  She further called on the youth to stop voting on ethnic, religion and cultural sentiment. "We do know that the youth have the game changing power in every electioneering process and as a council, we will always give support to the Youth in Action for Development during the course of implementation of this very sensitive and important project", she stated.
The representative of the Paramount Chief of Nongowa Chiefdom, Chief Komba D Kamanda of Kono tribal head Kenema district said as tribal authorities, they will give their support to Youth in Action for Development and assured the youth to always call on them when the needs arises.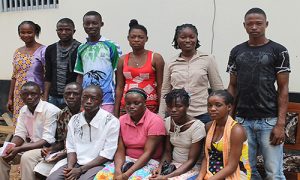 Delivering his statement on behalf of members of parliament in  the three political zones of the Kenema  city,  Hon. Francis Amara Kaisamba of Constituency 010 thanked the project Coordinator for bringing such project in  Sierra Leone  adding that ethnic division also exist in other countries like the United State of America but of a different standard  and not like in Sierra Leone where people vote on ethnicity  stating an example on the west/north belonging to the ruling APC and south/east belonging to opposition SLPP. Hon. Kaisamba further admonished the youth to look at the topic and deviate from voting on ethnic bases and called on colleague MPs to give support to the project in their respective constituencies.
Emmanuel Farma who represent the Ministry of Youth and Sport and Kenema District Youth Council, thanked the project Coordinator and his team for initiating such a project for the youth and called on the youth to focus on development issues now that Youth in Action for Development has brought about the initiative.
Delivering vote of thanks on behalf of the various youth groups,  Mariama Robert, PRO of Gbo-Kakajama Youth in Action for Progress, stated that it has  always been her insatiable desire to see the interest of the Kenema youth being projected at the world stage and to see all of them come together under one umbrella in the name of unity and solidarity at grassroots level.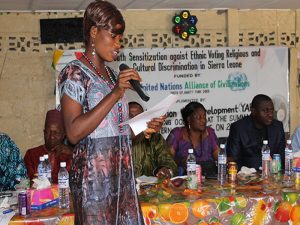 Mariama further stated: "I would also like to seize this opportunity, on behalf of my fellow youths, to request all stakeholders to underpin YAD's effort in the implementation process of this very important project.  I wish to see the youths of Kenema and Sierra Leone at large casting their votes in future elections for valuable policies and not for identities. I also wish to see my fellow youths being granted the chance to enjoy their basic human rights including the right of association, religion and conscience. I would also like to see fellow youths, especially the women, being allowed by their respective parents to marry their desired husbands regardless religious, cultural or ethnic backgrounds".
The august occasion ended with photo sessions with Mr. Sheriff and his team as every attendant, particularly the youths, yearned to have with them snapshot.