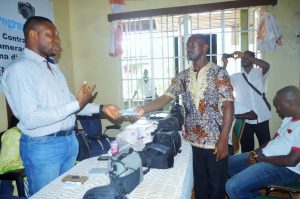 Youth in Action for Development has on past Friday supported young photographers in Kenema district. The colourful ceremony which took place at YAD's Multipurpose Youth Resource Centre at Duawoh Street in Kenema on Friday 28 October 2016, was witnessed by countless dignitaries anddecision-makers including Madam Esther Guanya Kaisamba – Deputy Mayor of Kenema Municipality, Chief Kenie Momoh Ngombulango – Town Chief of Kenema city, Mr Sandy Kongo Sama – Regional Coordinator of the Sierra Leone National Youth Commission, representatives of Ministry of Social Welfare, Gender and Children Affairs,  Ministry of Labour and Social Security, and cross-section of executives of the Sierra Leone photographers Union.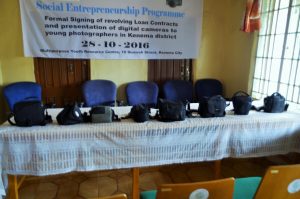 Highlighting background of the programme, the Coordinator, Othman Sheriff revealed that YAD in collaboration with its German partner, Fambul Tik e.V, has been working tirelessly over the years to eradicate some of the socioeconomic and cultural problems faced by the youth in Sierra Leone from diverse fronts. "The social entrepreneurship programme" he stated, "is aimed to maximize job opportunities, ensure economic stability and self-reliance for young citizens in the eastern region with special focus on small-scale urban farming, information and communication technology, desktop publishing and digital photography among others".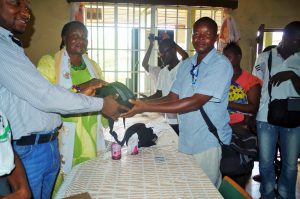 Sheriff Further revealed that "the main objective of today's programme is to promote digital photography so that it can become a true carrier for young citizens in this part of the world. If Europeans can live on photography  in Europe where digital camera is a luxury available in almost every private household, why not in Sierra Leone where a digital camera still remain an expensive asset for most citizens?" he asked.
"The beneficiaries of today's presentation are going to be 8 young professional photographers who have been carefully  selected by the management of YAD based on their individual performances and level of commitment to the YAD's Youth Resource Lab over the past 6 months, and I would like to take this opportunity, on behalf of every underprivileged youth in Kenema district, to urge those beneficiaries to cooperate with YAD and uphold the terms of the loan contracts so that  many other youths can benefit from the scheme in years to come".
Before formally signing the loan agreement and presenting the cameras to registered beneficiaries, three photographers were formally awarded with YAD personalised power-banks and USB sticks for their commitment and dedication to the Youth Resource Lab.  The awardees included Abubackar Sesay, Gibrila Koroma and Bockarie Abu.
Explaining key terms of the contract in the local parlance (Creole), the Finance Manager, Isata Ngombulango stressed that the terms of the loan agreement have been discussed with the potential beneficiaries and all parties clearly understood and found it satisfactory before signing.  She further took her audience step-by-step through key paragraphs of the contract including loan description, duration, method of payment, withdrawal from or termination of contract, dispute and settlement procedures, amendment of contract and final declaration. "I look forward to seeing all parties abiding by the above terms within a period of six months so that we can be able to multiply the number of beneficiaries in years to come".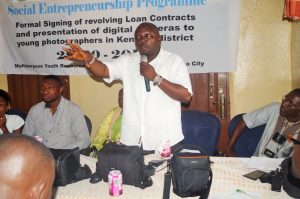 Speaking on behalf of the National Youth Commission, the Regional Coordinator, Mr Kongo Sama, invited the youths to embrace the programme and also urged members of the Sierra Leone Photographers Union to take their profession seriously, "and that", he said, "begins with the code of dressing, the manner of approach, honesty and sincerity with the customers". Mr Sama further asked photographers to stop trafficking pictures to Bo or Freetown for final processing.
"Now that we have a good digital lab in Kenema city, you don't need to traffic your products to other cities for printing, because it is our responsibility as citizens of Kenema to promote Kenema. I therefore think it unpatriotic for anyone of you, weather due to personal benefit or whatsoever,  to transport your photos to Bo where it will be printed by Koreans whose only goal of coming to Sierra Leone is to enrich themselves and go back to Korea leaving us in abject poverty" Mr. Sama advised.
In her keynote address, the Deputy Mayor, Madam Esther G. Kaisama acknowledged YAD as the only youth organization that is immensely contributing to the sustenance of peace and socioeconomic livelihood of young citizens in Kenema municipality. She further urged all photographers to embrace the YAD's social entrepreneurship programme as a loaf of bread meant for everyone and not to view it as a political campaign fund which could be robed by few disgruntled citizens.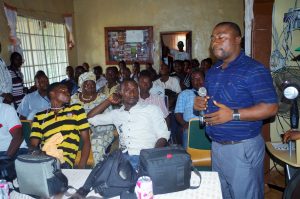 Speaking on behalf of photographers, Mr Moiwo Murray Yancy, Chairman of Photographers Union in Kenema district, thanked YAD for the humanitarian initiative referring to it as a dream come true. He further described Othman Sheriff as the only individual that has ever fulfilled his promises to the photographers union and granted due recognition to photography in the region.  He then urged his fellow photographers to respect and honour terms of the revolving loan scheme which they have signed with YAD.
Giving vote of thanks to close the occasion, Mr Mohammed Kanneh, Public Relations Officer of the Sierra Leone Photographers Union in Kenema district, thanked the staff and management of YAD for the gesture, referring to it as the greatest opportunity and recognition ever received by photographers in Kenema district.
The occasion was chaired by Mr. Ansumana D. Sheriff, one of the numerous academicians volunteering with YAD.