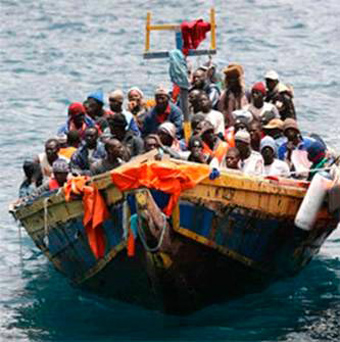 During my visit to the Sierra Leonean asylum seekers in the north and southern Italy, I had an ample time to assess their acclimatization and I found no evidence to be worried or complained about. Without hiding their true frustrations about a recently published article describing them as languishing street beggars, the asylum seekers laughed at the news while dismissing it as absolutely premature and insane. Sierra Leoneans who entered Italy using the Mediterranean Sea as the though risky but only alternative means of fleeing the violence in the North African country of Libya, confirmed that they were exceptionally welcomed by the Italian government and other humanitarian organizations. They further confirmed that amongst other services they have been benefiting from include adequate medication, housing, clothing, food and communication. They also affirmed that they are being treated here with high esteem and that their asylum applications are given the utmost humanitarian consideration they deserved.
Amongst five Sierra Leoneans who have successfully undergone multiple surgeries in Italy as a result of life-threatening sicknesses they had been suffering from for decades, are Ibrahim Kamara and Mariam Kamara. After successfully undergoing the thousands of Euros cost of surgeries, the patients and their fellow Sierra Leoneans in Italy are collectively expressing their appreciations to the government and people of Italy for the professional medical services.
"The Italian people are friendly and are just too human" said one of the patients while affirming that the Italian government has an absolute respect for the dignity of human rights. "We are delighted to be in Italy as one of the most peaceful and friendly countries in the world" said the Sierra Leonean asylum seekers in Bari, Southern Italy. "We are not only treated here appropriately like asylum seekers, but we are also treated here like legitimate Italian citizens" they said.
While expecting the Italian government to speedily decide their asylum applications and grant them the right to live and work in Italy, the Sierra Leonean asylum seekers are using this medium of communication to send a very clear message to the general public that they are neither languishing nor street beggars in Italy and that the Italian government and other entities are doing everything humanly possible to make them feel at home in Italy
Albert Kamara
Italy
0039-338-900-9169