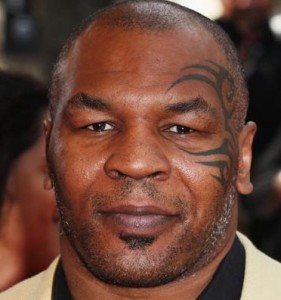 A RELIEVED burglar must be as pleased as punch to get out unharmed after sneaking into Mike Tyson's hotel suite while the boxing legend was asleep.
The former undisputed world heavyweight champion was awoken by a torchlight and noises in one of his rooms. Reports say Tyson, 45, went to investigate but the lucky intruder fled before being confronted.
A source said: "Whoever was in the room had a very ­fortunate escape. Because he would have met the most terrific moment in life if he had come face to face with Iron Mike."
Celeb website TMZ said: "We're told Tyson had been sleeping like a baby. By the time he realised what was happening, the intruder had already run out of the room."
Nothing was taken from the suite at the £1,000-a-night Cosmopolitan hotel in Vegas where the former boxer was staying after New Year's Eve celebrations with his family.
The hotel said: "We received a report of an incident which is now being investigated."
It was similar to a scene in hit film The Hangover when Tyson confronted burglars who stole a tiger from his Vegas mansion.
The dad of eight, who was known as the Baddest Man on the Planet during his boxing days and who bit off part of opponent Evander Holyfield's ear during a bout, was jailed for nine months in 1999 for beating up two men after a minor car crash.
Tyson had also been jailed in 1992 for rape.