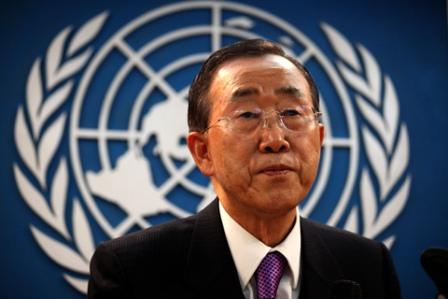 NITED NATIONS — One UN peacekeeper was killed and two others injured Sunday in an attack on a patrol in the southern part of Sudan's war-ravaged Darfur region, the United Nations said in a statement.
UN Secretary General Ban Ki-moon condemned the attack on the patrol near Nyala and said he expects the government in Khartoum to "swiftly bring those responsible for this reprehensible act to justice," his spokesperson said.
It appeared the peacekeepers involved were from Sierra Leone, as Ban extended his "heartfelt sympathy and condolences to the Government of Sierra Leone, the families of the three soldiers and their colleagues in Darfur."
The attack was not immediately confirmed by Sudanese officials.
The UN-African Union mission in Darfur (UNAMID) said last month that 33 peacekeepers had been killed in Darfur since the force was deployed in 2007 in a bid to halt hostilities between rebels and the Khartoum government.
The world body says at least 300,000 people have died since the uprising started in 2003, when non-Arab rebels took up arms against the Arab-dominated Khartoum regime. The government puts the death toll at 10,000