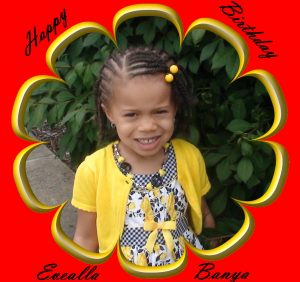 Dear Evealla,
Today is the 3rd of 99 if not 100 of the special
days we wish for you on this chaotic but beautiful planet of ours.
As you tumble and run, you appear so much fun for Mum and Dad.
You're growing fast and healthy right under their nose without
the rest of the family at home and abroad actually realizing it.
You started with zero, one, two and when I woke up today, a little bird
told me you are already three, which is why we are all chanting you today:
Happy, Happy, Happy Birthday to you!!!
a healthy life,
success in your home works,
happiness with friends in the kindergarten,
and a sweet bonbon from Mum and Dad.
by
Othman Sheriff
On behalf of:
Fatmata (Grandmother)
Samai (Grandfather)
Nelson(Grand cousin)
Wiyata (Grandaunt)
Ute (Aunt)
Millicent (Aunt)
And the rest of the family at home and abroad
……….We Love you above all………