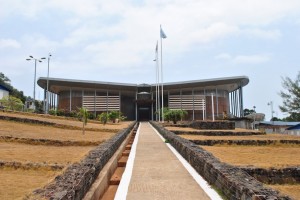 25 September 2012 – The United Nations-backed court set up to try suspects indicted for war crimes in Sierra Leone today found three senior members of the country's former Armed Forces Revolutionary Council guilty of contempt for tampering with a former prosecution witness.
Santigie Borbor Kanu (aka Five-Five) and Hassan Papa Bangura (aka Bomblast) were each found guilty on two counts of interfering with the administration of justice by offering a bribe to a witness, and for otherwise attempting to induce a witness to recant (or to state that he testified falsely) testimony he gave before the Special Court for Sierra Leone (SCSL).
Ibrahim Bazzy Kamara was convicted for attempting to induce a witness to recant his testimony, the court stated in a news release. He was found not guilty on a second count, of offering a bribe to a witness. Mr. Kamara was also convicted on a third count of knowingly violating a court order protecting the identity of a witness who had testified against him in the AFRC trial.
Mr. Kamara and Mr. Kanu are currently serving sentences of 45 and 50 years, respectively, on convictions for war crimes and crimes against humanity.
A fourth accused, Samuel Kargbo (aka Sammy Ragga), pleaded guilty at his initial appearance in July 2011 and was convicted on both counts. He subsequently testified for the prosecution. Mr. Kargbo remains free on bail on his own recognizance pending sentencing.
Based in Sierra Leone's capital, Freetown, the court was set up in 2002 to try those most responsible for serious violations of international humanitarian law in the civil wars that plagued the country, starting in 1996