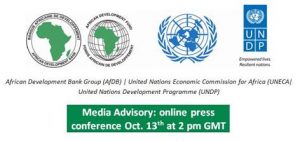 African Economic Conference 2011 / AfDB, UNDP and UNECA to hold a joint online press conference
TUNIS, Tunisia, October 7, 2011/African Press Organization (APO)/ — Mr Mthuli Ncube, Chief Economist of the African Development Bank, Mr Pedro Conceiçao, Chief Economist of the Regional Bureau for Africa of the United Nations Development Programme and Mr Emmanuel Nnadozie, Director of Economic Development and NEPAD division at the United Nations Economic Commission for Africa will jointly hold an online press conference on Thursday, 13 October 2011 at 2:00 pm GMT. They will discuss the issues of the African Economic conference. The latter will examine Africa's prospects for advancing sustainable development by boosting economic productivity and promoting long-lasting human development through the sustainable management of natural resources, including green growth.
Media are invited to join this online press conference from their computer.
Date: Wednesday, 13 October 2011
Time: From 2:00 pm GMT (Time Converter)
Languages: English, French
How it works: This service is FREE and only requires a computer connected to the internet.
REGISTERING :
http://www.apo-opa.org/en/application?vc=AfDB
Media contact:
African Development Bank – Ms Penelope Pontet
– Tel : +216 71 10 12 50 / +216 24 66 36 96 / p.pontetdefouquieres@afdb.org
United Nations Economic Commission for Africa – Ms Sophia Denekew – Tel: +251-11-544-50 98 / denekews@uneca.org
United Nations Development Programme –
Mr Nicolas Douillet – Tel +1.212.906.5937 /nicolas.douillet@undp.org