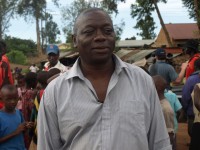 In part two of The Battle for Africa, Emmy-winning Sierra Leonean journalist Sorious Samura travels to Ghana and Botswana in search of that most scarce of African commodities – good governance.
The first episode of the People & Power investigation explored the effects of China's increasing influence in Africa, but Sorious says that making the documentary helped him realise: "The real battle going on in Africa is not between the West and the East, but between us Africans, who are struggling to find decent leaderships and good governance."
Ghana has always been at the forefront of history in Africa; it was the first country to start trading with the West, and the first country in Sub-Saharan Africa to win the battle for independence – now it looks like Ghana is also winning the battle for good governance. Ghana is at the forefront of doing business with China: in 2012, the Ghanaian government signed $13bn in infrastructure deals with China, representing 33% of Ghana's GDP. But here, a dynamic civil society and vibrant and independent media mean the government is under close scrutiny.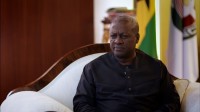 Sorious speaks to Kofi Bentil, vice president of the Imani Centre; Nana Akwasi, founder of Concerned Ghanaians for Responsible Government; and Kweku Baaku, editor-in-chief of The New Crusading Guide newspaper, who shed light on the battles they have fought, and continue to fight, to make sure Ghana remains one Africa's most successful democracies.
Sorious also speaks to President Mahama, who outlines his ambitious plans to further redefine Ghana's relationship with foreign powers. "The economies we inherited were what we've been quick to ask our colonial masters. We're supposed to be the producers of raw materials, which were exported to the colonial metropolis and then they fashioned them into finished goods and re-exported them back to us. So we need to break that structure. Why should we – 57 years after the independence – continue to export gold in its raw form, when we could set up a refinery to refine that gold? When you refine gold, the value of exporting it's in fact more money than when you export raw bullion. And so there's a lot that we can do and this government is determined to do."
Botswana is arguably Africa's most astonishing success story. At independence in 1966, it was one of the poorest countries in the world, but, since De Beers discovered diamonds a year later, visionary leadership has allowed it to emerge as one of Africa's first middle-income countries, which has now enjoyed 50 years of unbroken peace, prosperity and democratic rule.
The government negotiated two fantastic deals: first, for De Beers to pay them around 70% of the value of each diamond they found, and secondly, in 2006, for De Beers to bring all processing of Botswana's diamonds from London, so the country now benefits not only by selling its raw materials, but also by producing finished goods. These profits were not used to line
the pockets of corrupt politicians, as happened in so many African countries; rather they were spent wisely for the development of the nation.
The government has also negotiated firmly with the Chinese: when a Chinese company failed to work according to the government's rules when building the airport, the contract was terminated.
But Botswana hasn't only looked outside to foreign partners for solutions to its development agenda – they looked within to their own traditions and joined tribal leadership with modern democracy to create their own unique brand of government.
Sorious speaks to Balisi Bonyongo, managing director of Debswana; Mosadi Seboko, chief of the Balete tribe; Dikagiso Mokotedi, permanent secretary to the Ministry of Infrastructure; and President Ian Khama, son of the country's founding father, Sir Seretse Khama.
"We shouldn't – as a country or as a continent – put all our eggs in one basket," says Khama. "Anything that you do should be a win-win situation, dealing with any country, whether it's China or anybody else."
The second and final episode of People & Power's Battle for Africa premieres on Al Jazeera on Thursday, 4 September 2014, at 00:30 CAT.