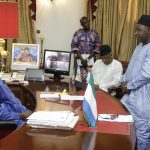 FREETOWN: The Sierra Leone Ambassador designate to the Islamic Republic of Iran and accredited to Turkey, Lebanon, Iraq, Brunei, Bangladesh and Pakistan, H.E. Plenipotentiary Dr. Muhammed B. Fofana has on Friday 26th August 2011 took leave of President Ernest Bai Koroma during a farewell ceremony held at Stat House Freetown.
Led to the President by the Deputy Ministry of Ministry of Foreign Affairs and International Cooperation, Ebun Jusu, Director General Mr. Soulay Daramy, staff and relatives, the occasion marked Ambassador Fofana's departure and preparedness to take up official assignment at the Sierra Leone mission in Tehran.
In his leave-taking courtesies Ambassador Fofana thanked President Koroma for the confidence reposed in him, which has been demonstrated through his appointment as an emissary representing Sierra Leone in one of the country's diplomatic missions abroad.
He referred to his nomination to serve the country as a meaningful trust while informing the Head of State that upon the announcement of his appointment by the Office of the President, he has already started working with the Iranian Embassy in Freetown, and has identified the Iranian government sponsored projects in Sierra Leone.
These projects, according to Dr. Fofana include the oil palm plantation in Mange Kambia district, the Iranian Cultural Consulate in Freetown, the Islamic Institute at Wilkinson Road and others that are being aided by the government of Iran. `
He reassured President Koroma that he will not be a dining and wining diplomat and that he is going on a mission to prop up the interest of Sierra Leone.
"I am going to Iran to promote the interest of my country and I will not let you down", pledged Dr. Fofana, and called for valuable and brotherly support of President Koroma.
President Koroma in response congratulated Ambassador Fofana on his appointment which he described as appropriate particularly at a moment of rebranding Sierra Leone.
"We need to send people who will go and tell the world the new stories about Sierra Leone", he said, and encouraged the diplomat to go and market the values of Sierra Leone to the wider world in order to attract people to come and invest the country.
He noted the vast experience Ambassador Fofana has in international relations he believes will earn him the required capabilities to be up to his task, and therefore reminded him that he is not only going to represent himself and his family but Sierra Leone.
President Koroma reassured Ambassador Fofana of his government's relentless support to the mission through the Ministry of Foreign Affairs and International Cooperation to enable him to be very much up to his task.