RANDOM MUSING, By Raymond Dele Awoonor-Gordon
awogordon@yahoo.co.uk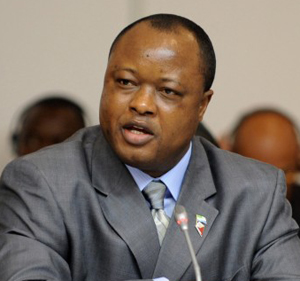 The Vice President, Alhaji Sam Sumana
Permit my impudence but there is an irony in the fact that the administration of which you are a part, won a mandate for change four years ago and just about a year to the renewal of that term of office, it is now, more than ever before, faced with a stern test of all its platitudes on Attitudinal Change and Behaviour.
There is no doubt that there is an urgent need for our new generation of leaders to clear the cobwebs of decadence and political scavenging of the past and the 'Timbergate' issue which you have found yourself embroiled, is from all indications, one of the perfect opportunities to do just that.
Amid the dark whispers, what the whole saga point to, is that people are simply saying that the present administration was supposed to represent a new dawn; a fresh approach to politics and governance; but believe rightly or wrongly, that it has flattered to deceive.
This may be why sympathy for you and by extension the government, is in short supply at the moment.
I am therefore fascinated by the report that you are interested in taking legal action against the broadcast network and by extension, the producer of the programme. Openness is a guarantee of probity for those with nothing to hide.
So, I wish you the best of luck; because not only will you be needing it, the outcome of such a step is going to be either a long march to freedom or a short walk to oblivion.
Meanwhile, as the circus remains in full swing however, let me respectfully point out to you that, bold statements have a nasty habit of boomeranging. Talk is cheap but action speaks louder than words. So please do us all a favour and head for the courts.
Already, in street corners and bar joints, in the safety of their rooms and backyards; in poda-poda and in the markets, people are raising eye-brows about a few niggling thoughts especially after the several feeble and ill-conceived attempts at rubbishing the programme instead of correcting probable misconceptions.
Show me your friends and I'll tell you who you are; readily comes to mind.
The vacuum created when trust evaporates is what has crystallised the public's anger at having been taken for fools. The fiery sense that the political class has insulated itself while continuing to presume the gullibility of the masses is why all politicians have been tarred with the same brush.
Truthfully, politicians have lost authority because they have become dangerously disconnected from those they chose to serve, through their self-posturing and lack of accountability. Pathetically, there has been little to expose or dispel this fallacy.
Cynically, people wonder if and when the rock of graft is finally lifted, God knows what we'll find crawling underneath. It is the belief that those helping themselves to our collective wealth are peeping at us from their great heights and laughing in our faces.
The culture of finger-licking despite all the noise being made is now seen by many as being part of the DNA of our society. A culture that makes you sick to the pit of your stomach.
Your Excellency, I hope you are not reading meaning to this piece. But there is a saying that when two brothers go into a room to talk and come out laughing, then they have not spoken the home truth to each other.
From history, we have continued to see that the great and the good have feet of clay like everybody. The 'timbergate' drama is an extraordinary experience that has reputational damage that will be hard to repair.
But try you must. For the sake of all of us. Especially as it appears certain elements are surreptitiously raising the bar. In other words, you are as much a victim of your 'friends and admirers' as of those perceived to be your enemies and believe me, both sets have now got you where they want.
The task is not who, what or where you are going to carry out this fight but how you expect to win because if you lose, you'll soon discover that the horrors of war are not only at your doorstep but are now sharing your luxurious bed.
A man alone hasn't got a chance and those who urge you to fight against great odds are looking for nothing but a 'dead' hero.
So, I hope your legal team will be proving amongst others that:
You did not have any contact with suspected timber merchants?

That your image was super-imposed in the meeting that took place? (At least that was in your office, I believe.)

That you did not promise to refer the timber issue to the agriculture minister? Which is a tacit endorsement of the issue?

That you did not know the two 'gentlemen' who used your name to extort money (as is being bandied)?

That the programme specifically mentioned that you collected money for your error of judgement? Entertaining a discussion that should have been cut short from the first sentence with the authority and clarification that is expected of a number two man.

That the English word 'Office of the Vice President' does not have a connotative and denotative meaning that encompasses all that transpired during the course of the recording, through inference even?
Let me also point out some of the obstacles that lie ahead. But do not let them deter your determination to pursue the issue to its logical conclusion.
While not holding brief for you or for the programme makers, your stoical approach to the issue appears to have all the finesse of an elephant trying to tap-dance on an oil-smeared floor.
For one, the hysteria that was used on your behalf by comedy capers, to try and gather up a storm of emotional public support is what also helped to turn the attention and tide of public opinion.
But a war ensues whether an individual is part of a great army or is fighting for his own life. The discordant, mildly opportunistic note from your colleagues amid the furore is rather disconcerting for me and it points to the fundamental conclusion that all is not well.
By the way, dare I tell you that this is already in the public domain; no matter what colour of flag the Independent Media Commission raises in a desperate bid to shush the whole episode.
There have been snide remarks since your administration came to power. All that was missing was the proof of the aspersion. This is why it is imperative that you bite the bullet by heading for the courts.
Sir, from my dispassionate observation, you fumbled; irrespective of any aspect of the programme that is discredited. Your cameo appearance and subsequent pronouncements cannot be erased by threats or outcome of a legal action.
Don't let the gulps of power-brandy give you a giddiness that promises to expose the garb of recklessness and uncouthness under the shinning new coats of those of you who are now leading us.
No matter the result of your case, there is a sceptical, unbelieving and hungry mob out there who have not only made up their minds but who are also under the impression, following the Independent Media Commission's feeble attempt at shutting the mouths of the lion and the absurd display of dynamism by the Anti Corruption Commission.
For one, I might be wrong but not even during the 'Coke and Bull' drama involving your erstwhile colleague, Kemoh Sesay, or the long-drawn cash and fish saga of Afsatu Kabbah or even the recent sensational Mayoral cash-banquet, did the ACC openly appealed to the public or the government for permission to interrogate individuals concerned. Yet this is a more straight forward case.
Similarly, trust in the judiciary is totally eroded for reasons which I am very sure must have also come to your attention. However, allow me to give you just one example.
When the late Olu Richie Gordon (remember him?) published a story way back in January this year about the Mayor swindling Morgan Heritage, he was threatened with legal action. Nothing happened until May this year when his paper, PEEP, published a story about the brother of the Chief Justice being involved in a land scandal.
A few days later, following the failure of the paper to succumb to subtle threats and intimidation to drop the story, a writ was slapped on them regarding the Mayor and the Morgan Heritage report.
Again, the already battered image of the political class especially concerning broken promises creates the impression that their words are a rainbow creation.
Just recently, your boss went to Regent Village and promised the long-suffering people of this suburb that the injustice of being left in the dark for the last five years and being taunted by the ignominy of seeing their more affluent segment of the village which hitherto had no poles, rewarded with light; while they sleep in total darkness despite needing only rewiring, will be corrected by September/October this year.
Suffice to say that like the completion date and several other promises, it is still a strange world for them.
Very many of the rich in our country today and since this administration came to power have been either in government or around government. This is the grim reality of the raging thunderstorm over the timbergate issue.
I know that your government is still in thrall to the fantasy that it is the best thing since slice bread, simply because it played 'God' and said let there be light but majority will rather give an arm and a foot to have their thirst sated and their hunger satisfied, right now.
And with poverty spreading at an alarming rate, the unspoken question from the voiceless majority is and has always been: "why are people in government and their cohorts making so much money while the rest of us go about with six o'clock faces?"
No doubt poverty is repugnant and abhorrent. It invokes an instinctive reaction from those at the tail end; especially when those expected to tackle the issue and change the lot of those bearing the brunt do so with dangerously complacent psychology.
Sir, if others won't tell you the truth, I'll simply say that "you got yourself into this mess, now please get yourself out of it".
We've heard his master's voice from the I.M.C. We've listened to the pathetic plea of the ACC. Now let's hear the rallying cry from you.
Do us all a favour and let's get this issue out of the way. Let the court drama begin.