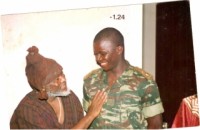 There was a time in the years 1992/93 when the Bo-Kenema highway became a no-go zone for all peaceful citizens including myself except for a patriotic and fearless warrior like a man who was blasphemously named Ndevuyama, meaning "life-saver" in Mende. That was no other a soldier but the then Captain Tom Nyuma who forcefully made possible vehicular traffics between Bo and Kenema under heavy military convoys. Tom became the only hope for residents of the eastern capital when the Revolutionary United Front (RUF) rebels intensified hostilities criss-cross the south and eastern districts of Pujehun, Bo, Kenema and Kailahun. Tom was believed to be spiritually or supernaturally protected against weapons of any type and could disappear and reappear. He was the only top ranking NPRC officer who never depended on the new recruits to face the RUF while he relaxed in the office. He was less educated and therefore believed that only weapons can protect him in power.
He was later forced into exile by the Sierra Leone Peoples Party (SLPP) after Rit. Brig. Julius Maada Bio handed over power in the year 1996. He is said to be the last man in the NPRC hierarchy to leave the country after the junta era.
Tom later returned from his asylum home in the United States as a politician under the SLPP party which allowed him to head the Kailahun District Council.
As pro APC media outlets intensified calls for inquest into the extrajudicial execution of APC politicians who were arrested in wake of the NPRC revolution in the year 1992, Tom, who was accused as the main perpetrator, ironically cross carpeted to the ruling APC prior to last elections, a decision that immunized him against the speculated inquest though but cost him his position as Chairman of the Kailahun District Council and respects as patriotic son of the soil. Since then, he is said to have been struggling to survive a protracted illness that stole away much of his time and kept him at bay from public life.
Rit. Lieutenant Colonel Tom Sahr Nyuma, the onetime fearless warrior and Ndevuyama (life-saver), according to news filtering into this outlet, died this morning at the Choithram Hospital in Freetown.
Though many people kept questioning his sincerity and commitment to the ruling APC, but he officially died as APC man.
May his Soul Requiescant in Peace