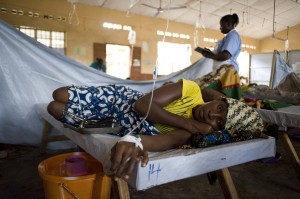 Just a week ago, I read and heard two of the most shocking cases of this cholera outbreak. The first case was that of a grieving mother, Salimatu Turay who lost her 20 year old son, Alusine Vandi. She told the AFP (French News Agency) reporter in Freetown, Alusine was taking his terminal exams when he collapsed and had to be rushed to the hospital. He died two hours later after he was admitted. She lamented, it all happened so suddenly. The other case was that of a story of a father whose 2 year old daughter by 2:00am because of the severe diarrhoea and vomiting, that led to her rapid dehydration. The father then carried the daughter on his back to walk to the hospital as he did not have any money on him to pay taxi fare. By 6:00am, the 2 year old girl has been so rapidly dehydrated that whilst her father was mixing one packet of the Oral Rehydration Salt (ORS), she passed away. So like I told David Tam Bayoh on the Monologue Programme two weeks ago we should not politicise this cholera outbreak because it is a matter of life and death but we will continue to ask the simple question: why did President Koroma fail to prevent the cholera epidemic from becoming a national emergency since January 2012?
In fact, even the Al-Jazeera Presenter of the Inside Story Programme who grilled Zainab Bangura last week in an interview reminded the outgoing health minister that ultimately it is the government responsibility to address the basic sanitation rights of Sierra Leonean citizens. Therefore, this government should take responsibility that for almost five years they have FAILED to address the poor hygiene and living conditions of the people with only 57% of the population having access to clean water; many communities still lack sanitary toilet facilities; Freetown continues to have an eyesore of piles of garbage and a country with one of the world's worst health system with only one doctor per 34,447 people according to United Nations figures. This blatant failure has also been demonstrated during this cholera outbreak as the APC government failed to prepare adequately and sensitize the people since January when they have the opportunity to prevent the cholera epidemic from being a national emergency, yet the APC apologists will complacently say the President has set up a Presidential Task Force. You wonder which other President in the world who knows that a deadly cholera epidemic starts in January but waits until mid August to set up a Task Force after more than 100 lives have been lost and then his apologists say the president is successfully tackling the cholera outbreak – only in Sierra Leone with President Koroma.
And with the latest dire figures on the cholera outbreak reported by 'Politico' – 245 deaths, 14,857 cases reported and 12 districts affected now the Health Ministry has no substantive minister as the then minister quit office last week. But for many ordinary people they would want to know why the Health Minister should leave at this time when the country is battling with the worse cholera epidemic for 15 years which continues to destroy lives and families.
Well, in June this year it was reported that Zainab Bangura was appointed by UN Secretary General, Ban Ki-moon as his Special Representative on Sexual Violence in Conflict. And as Zainab Bangura took leave of the President last week she diplomatically thanked the President for sending her on Secondment from the government to the UN to serve for a period of two years as SRSG on Sexual Violence in conflict. But, according to a close friend of Zainab Bangura, the former minister was just waiting for an opportunity to leave. So the question I put to the close friend of the former minister was why would Zainab Bangura decide to leave the government at this time when voters have less than 75 days to pass a verdict on Pres. Koroma's government which she has been part of since October 2007?
According to this close friend, Zainab Bangura lost faith in the President after the cabinet reshuffle in December 2010 when she was moved as Foreign Affairs Minister to be Minister of Health. As a woman who has always liked to be on the international stage her close friend said, Zainab was really embittered with what she regarded as a demotion. This is because at the Foreign Ministry, Zainab Bangura was regarded as the most senior cabinet minister as she had the enviable privilege of receiving and hosting diplomats and visiting foreign leaders. At the same time, she was frequently with President Koroma making state visits to other countries and attending international sessions at the UN, AU, ECOWAS or MRU. Crucially, as Minister of Foreign affairs, Zainab Bangura was also in charge of all our consular and diplomatic missions abroad. Therefore, after the December 2010 reshuffle when Zainab was stripped of all these privileges she had enjoyed for three years and replaced by John B. Dauda, the present foreign minister, Zainab really felt betrayed by the President. So, Zainab Bangura grudgingly accepted the health ministry. But according to senior source from within the APC, in the December 2010 reshuffle, the President was only trying to protect Zainab from the media bashing over the Infamous Indian Rice Scandal which her and her husband, Sheki Bangura were alleged to have involved in.
But, the desperation for Zainab Bangura to leave and continue her international career became heighten after Rt. Brigadier Maada Bio was elected as presidential candidate by the SLPP in July 2011 because like many government ministers and senior APC executives they had been praying for Usu Boie to emerge as flag bearer so that Pres. Koroma could have got an easy ride. However, there is something different from Zainab Bangura to other APC ministers, she was one of few senior ministers who never engaged in character assassination against Rt. Brigadier Julius Maada Bio and I put that to her close friend who said "Zainab is more of a diplomat than a politician and for her, Sierra Leoneans deserve a legitimate debate about policies and not personal attacks". Crucially, as a women's right campaigner and advocate, I am told Zainab Bangura has also been impressed with Rt. Brigadier Julius Maada Bio's nomination of Dr. Kadie Sesay as vice presidential candidate whom Zainab Bangura holds in very high esteem.
Well, for a country where women account for more than 50% of our population it was long overdue for our women to occupy the second most important highest office of the state and the Rt. Brigadier Julius Maada Bio has surely won the hearts and minds of many other women's rights advocates.
So, when Zainab Bangura became aware that the term of Margot Wallström, outgoing Special Representative of UN Secretary General On Sexual Violence in Conflict, was to end in February 2012 she started frantic diplomatic lobbying to replace the Swedish Politician and women's rights advocate. This is because she saw it as an opportunity to quit this APC government which hopes of hanging on to power have diminished with the continued economic hardship and a minister who was still been embittered since she was moved from her preferred Foreign Ministry. Whilst Zainab Bangura may not have been the best Minister of Foreign Affairs as we still have fresh memories of the infamous indian rice corruption scandal and allegation of abuse of office by improperly employing Abdulai Bayraytay in 2010 and as Minister of Health, the slow and inadequate response of her APC government in preventing the cholera outbreak since January from becoming a national emergency, yet as Sierra Leoneans we are delighted that His Excellency Ban Ki-moon appointed a Sierra Leonean woman to such an enviable position. And so for Zainab Bangura when she received her appointment letter from the Secretary General as UN protocols demand couple of months ago, she must have thought – it was high time I jumped out of this sinking ship of a government. But, if you are a die-hard APC apologist who thinks Zainab Bangura will come back to join your APC government, well by 2014 there will not be any APC government to come back to so the only option for Zainab will be for H.E Ban Ki-moon to renew her contract. Significantly for President Koroma, Zainab was one of her SACRED COWS whom he protected during the Infamous Indian Rice Scandal involving the minister and her husband, Sheki Bangura. The reason was that Zainab was the most senior female cabinet minister the President used to show-case for his gender credentials but as the minister quits for UN, the question we ask is: did the former health minister just decide to jump out of a sinking ship?