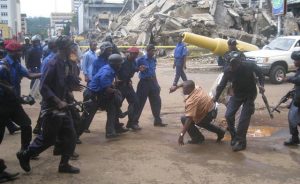 It will be recalled that incidents of violence and disorder occurred in Bo city in the southern province on 9th September 2011, Bumbuna in the northern region on 18th April, 2012 and most recently in Wellington in the western area on 5th June, 2012. In all of the above instances, there was loss of life in circumstances that suggest violence or unfair means by persons engaged in culpable or negligent conduct either of the deceased or other persons. (Photo: HE President Ernest Bai Koroma)
It has therefore pleased his Excellency the president to establish a coroner's inquiry to look into the respective circumstances that led to the death of civilians in Bo, Bumbuna and Wellington on the diverse dates mentioned above, pursuant to the coroner's act chapter 9 of the laws of Sierra Leone 1960 as amended.
The coroner is empowered to make recommendations as to the culpability of any person or persons or organizations including committal for trial before the high court for any offences that may be disclosed by the inquiry.
The general public is assured that modalities have been put in place for the speedy conclusion of this task. The cooperation of all is hereby solicited and government continues to entreat all concerned to exercise patience.
State House, Freetown