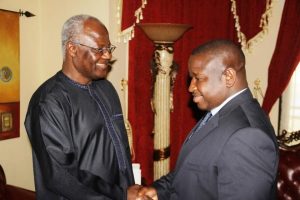 Those who thought politicians in the governing and opposition political parties were implacable enemies should have a second thought by now. The mavericks were shocked to have learned that the presidential flag-bearer of the main opposition Sierra Leone People's Party (SLPP) and other senior executive members of the party visited President Ernest Bai Koroma at his official residence at Hill Station on Wednesday 11th July to sympathize with him following the passing away of his biological mother – Madam Alice Rosaline Koroma, on Friday 6th July, just a few weeks after she had celebrated her 80th birthday.
According to reports, the president in his address to the opposition expressed great satisfaction with the political tolerance between his ruling All People's Congress (APC) and the opposition SLPP. President Koroma however cautioned that politics should not be a matter of life and death but a game of win or loss. He also thanked the SLPP's delegation for sympathizing with him and the entire Koroma family for the irreparable loss of their mother commonly called Mammy Alice.
In the same vein, it was reported that the Chairman and Leader of the opposition SLPP, Mr. John Oponjo Benjamin, presented a gift to President Koroma on behalf of his party – as tradition demands – and also signed the book of condolence for the late Mammy Alice, while assuring that his party will also help in the process of improving political tolerance in Sierra Leone. John Benjamin was also quoted as saying that they will convey the message to members and supporters of the party.
In our Mende tradition there is this general belief that when two persons quarrel and later meet at a burial ceremony of a beloved one, they are likely to reconcile their differences. Even if someone has hurt you so much and asks for mercy at a funeral ceremony, concerned mourners will come in and intercede on your behalf. And in this case, the sudden death of the Nation's Mother has offered President Ernest Bai Koroma and stalwarts in the opposition SLPP the opportunity to reconcile their political differences and to willingly embrace political tolerance which every well-meaning Sierra Leonean is yearning for. Now that the death of Mammy Alice has reconciled the two traditional political rivals, it is only hoped maverick politicians and journalists, who are wont to spreading hate messages aimed at dividing the country along tribal and regional line, will recognize the fact that members and supporters of both political parties are one people related in one way or another. It is only a matter of where someone wants to belong or to move from one political party to the other as evidenced by recent political development.
But verily, this at the time we should consider ourselves one nation, one people living with one mind and determination to rebuild Sierra Leone no matter which of the two political parties is in power. It really doesn't matter whether you are Mende, Themne, Limba or Kono; or whether you have godfathers in the so-called grand political parties; what is more important than personal interest is for all of us to put Sierra Leone above all else and start thinking nationalistically, for posterity will judge all of us should our reckless utterances or statements plunge this country into another bloodletting. But the good thing is that Sierra Leone is now on the spotlight of the International Criminal Court, and defaulters will surely be confirmed as good candidates for indictment. So let us beware of our public utterances and what we write for public consumption.
Most Sierra Leonean dignitaries were in Makeni last Sunday to pay their last respect to the Mother of the Nation, Mammy Alice, who suddenly passed away on Friday 6th July whist her son President Ernest Bai Koroma was out of the country. May the Soul of Mammy Alice rest in the bosom of the Almighty Father. May the Lord also guide and protect the children and relatives she had left behind. May we also continue to embrace ourselves like we did at the funeral ceremony of Mammy Alice.
The governing APC is again mourning the death of the Deputy Leader and Chairman, Hon. Victor Chukuma Johnson. He was Deputy Leader of Parliament and was member of that august for almost three terms. Reports state that Hon Johnson fell ill in Makeni whilst attending the funeral ceremony of Mammy Alice. He was rushed to the Holy Spirit Hospital and all efforts to save his life proved futile. May his soul rest in perfect peace.