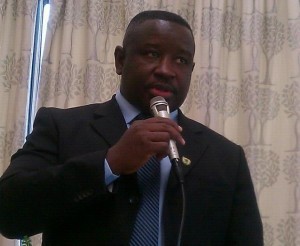 Following the aborted public lecture scheduled to take place at the University of Makeni on Friday 6th July 2012, the guest speaker Presidential Nominee of the Sierra Leone People's party Rtd. Brig. Julius Maada Bio has expressed regret for not honouring the invitation of the university on the scheduled date.
According to an email letter sent to the university PRO, Mr. Unissa P. Kamara, Mr. Bio maintained that it was an honour to receive the invitation from Unimak to give a talk on the New Direction of the SLPP, which he felt would have been a great pleasure to participate in the function and to meet with his hundreds of audience personally.
The Presidential nominee however expressed regrets that prior commitments with the people of Koinadugu district will not make it possible to be present at Unimak. "We have given serious thought to how we can honour this invitation and hope a new timing can be agreed. I would like to propose that we reschedule this event for sometime in October 2012 when, I understand the next session of the University would have started", the letter concluded.
According to the PRO Unimak, Mr. Unissa Kamara; Mr. Maada Bio's request will be reconsidered by the public lecture and debate committee.
The aborted public lecture has left many interested students and the general public with mixed feelings as most of them considered it the right opportunity and timing for Mr. Maada Bio to address members of the academia based on his agenda A new Direction for Sierra Leone. Interested students opined that the date and timing suggested by Maada Bio will be at the heat of campaigns and that his time apportioned to this lecture will be limited due to other prior commitments.
Political analysts are of the opinion that Mr. Maada Bio was not well prepared for this public lecture especially in a strategic location and place like Makeni, so he has to put his facts to book. They also opined that October will be most appropriate for Mr. Bio because the whistle would have been blown for campaigns so his lecture will be focused on not only his party's manifesto but to expose the good, the bad and the ugly side of the APC with concrete evidence as references.
The public lecture and debate committee is yet to publish another schedule for their public lectures for the 2012/13 academic year.