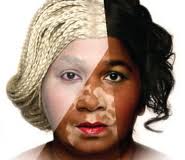 Adama Ndiaye is the founder of Senegal's Dakar Fashion Week. She has recently put a ban on certain models in her fashion show. Why? Because they are doing something that she is calling depigmentation. They are bleaching their skin so that they look lighter. She says she thinks this is ugly and is a turn off.
African models definitely have a hard time in the industry. They feel pressure that they need to have lighter skin in order to be accepted in the modeling and fashion world. The reason that Ndiaye is putting the ban on models that go through skin bleaching is because she wants to teach African models that they are beautiful no matter how dark their skin is and they shouldn't be conforming to what others think. She also wants to bring forward the risk of skin bleaching to the models.
Long-term skin bleaching can cause blotches on the skin. To lighten the skin the women use a prescription-strength corticosteroid cream which when absorbed into the bloodstream can cause serious heart defects. Another side effect of this cream is skin cancer.
Many people know of these risks and yet skin bleaching is still very prevalent. They don't want to believe that they can be beautiful in the skin they are in. This goes many years back and has been passed down through generations. One woman told a story of how when she was growing up in the Caribbean her great aunts would offer them sun bleaching lotion because they grew up in the early 1900s and grew up wanting to have skin like the Queen of England.
One of the models from the Dakar Fashion Week spoke out in response to the ban saying that it was a great thing and she felt that it would help to discourage others from bleaching.