By Abdulai Mansaray, UK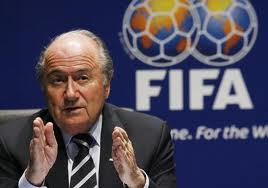 Sepp Blatter, the President of FIFA, the World governing body has put his foot in it again; this time telling CNN in an interview that " there is no racism (on the field), but maybe there is a word or gesture that is not correct". He should have been putting a sock in it. If that comment had been made by any politician or someone in any other walk of life, he/she would be walking with a new job description in his hand. For Blatter to ignore an irrefutable fact that racists have seen and used football as a convenient medium to vent their ill held beliefs is beyond belief. To think that football has always been and continues to be plagued by this cankerworm, whenever it rears its ugly head, is being denied by the high priest of the football congregation is difficult to fathom. Blatter claims that the antidote to racism is a handshake, phew.
Following the breakdown of relationship between the English Football Association and FIFA, after the former lost out on hosting the 2018 World Cup, a series of investigations into bribery and corruption in the FIFA politic was initiated, resulting in high profile casualties along the way. Blatter promised "to cleanup" the organisation and proclaimed that he was the best man suited to oversee this cleanup operation. Last week, FIFA was also embroiled in a tittles tattle with the English FA again on whether to wear a poppy on the recent friendly matches involving British teams. That was later resolved with a poppy of love.
Blatter's comments could not have come at a worse time; when the English FA is snowed down with series of high profile allegations of racism among Premier League footballers. As if that was not enough, he made his comments on the same day as the English FA were reading the riot act to and charging Luis Suarez of Liverpool football club with allegation of "using abusive and/or insulting words towards Manchester United's Patrice Evra contrary to FA rules. The FA statement further said" it is alleged that this included a reference to the ethnic origin and /or colour and/or race of Patrice Evra".
Blatter believes that if you are victim of racism on the football pitch, "the one (victim) affected by this should say this is a game and shake hands"; the first commandment on racism according to Saint Blatter. As expected, his comments have generated a lot of condemnation from politicians, footballers and many other stakeholders, especially from those organisations like "Kick Racism Out" of football; who have made it a life's vocation to rid the game of this ugly phenomenon. Blatter has conveniently succeeded in undermining all their hard work with one moment of verbal diarrhoea. Reducing the resolution of racism to a simple handshake is not only condescending but utterly stupid.
There are certain aspects of football or any other sport that can be resolved with a handshake, a smile or even a wink but racism is not one of them. Like Fifpro (worldwide representative organisation for all professional footballers) said in a statement "there is a bottom line which should not be crossed. There are things that you cannot just solve by shaking hands after the end of a match, as Mr. Blatter suggests". Worryingly, UEFA is organising the European Championship in 6 months' time. You would think that it will use this opportunity to reiterate its stance against racism, but it is their silence on the matter that has been deafening. No surprises there.
Some people have blamed Blatter's comments on senility and being out of touch. If that is the case, such symptom of senility appears to be selective; which may require some dose of Selective Serotonin Reuptake Inhibitor (SSRI). The British Prime Minister described his outburst as "appalling" and Rio Ferdinand of Manchester United, whose brother is incidentally involved in another alleged racial slur, was involved in some tweeter activity. In any work of life, Blatter would be charged with bringing the game into disrepute, notwithstanding his position as the figure head of the World Football governing body.
As head of FIFA, you wonder if his comments are representative of the organisation. If this is not the case, why has FIFA as an organisation not come out and issued a statement to distance itself from his comments? But the world should not be surprised at such comments for he has shown in the past, a serious penchant to cause controversy. When Qatar won the right to host the 2022 World Cup tournament, his welcome note was to warn homosexuals to refrain from any sexual activities (for 1 month only I should add). Last year he rubber-stamped John Terry's alleged affair with his fellow professional's ex-girlfriend and in the bargain insulted Latin countries by saying that "if this had happened in let's say Latin countries then I think he (Terry) would have been applauded". He even suggested women footballers to wear tighter and feminine more shorts for matches; (not sure how many will object here).
It is unquestionable that Blatter is fast becoming a liability to the game. What I am struggling to understand is whether the organisation is owned by him, because to all intents and purposes, he behaves like he owns it with unadulterated impunity.
With Suarez facing an FA charge for alleged racial remarks, I find the Liverpool stance a bit baffling. Following the charge, a club statement said "Luis remains determined to clear his name of the allegation made against him by Patrice Evra. The club remain fully supportive of Luis in this matter". This is expected of any employer to his employee. However, from a PR point of view, you would expect the club to firmly condemn racism first and express their support for their employee second. Instead their manager Kenny Dalglish said that he "does not think racism is prevalent at the club"; (prevalent the operative word). I am yet to read a statement that actually condemns racism by the club. These are the kind of mixed messages that you find nauseating; condemning racism on the one hand and in the same breath denying its prevalence in another. You would naturally expect a club to stand by their man in such a case but such blind loyalty, without condemning the idea of racism smacks of a PR disaster.
Since the uproar Blatter has been making desperate attempts to go on the charm offensive to retract or play down the effect of his rant. In one such attempt, he posts a picture of him in a bear hug with South Africa's black football chief Tokyo Sexwale; as if to say " hey look at me, I can even hug a black person". What does Blatter take us for, plebeians? Is that his measurement of people's mentality? This is further proof of his lack of guile and tendency to be condescending. Next he will be telling us that his remarks were not racial; because he has a 50- inch coloured plasma TV.
Blatter is credited with playing a vital role in bringing the world cup to Africa for the first time last year; give him his due. He has also ensured under his leadership that other lesser nations like Qatar enjoy their right as part of the football family to host the tournament (did I hear you say with the help of brown envelops? No). Had it not been for his drive, the nearest such countries would come to the tournament would be six feet from the TV. Although racism is the greatest threat to mankind; the maximum of hatred for a minimum reason, excellence is the best deterrent. Accomplishments have no colour. That is why racists pay through their noses to go and watch someone they hate. "The legendary Rosa Parks once said "racism is still with us. But it is up to us to prepare our children for what they have to meet, and, hopefully, we shall overcome". That was in 1955, this is 2011; still waiting. Some people just find it hard to accept that the world is colourful.
Don't forget the lights – please turn them off.