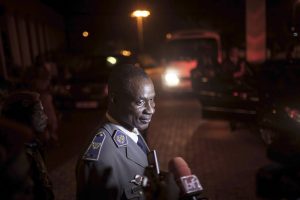 Soldiers from around Burkina Faso poured into the capital overnight in a show of force as the military has vowed to disarm the mutinous presidential guard behind last week's coup on Tuesday, with force if needed.
Meanwhile, the junta met a key international demand by releasing the country's interim prime minister, Lt. Col. Yacouba Isaac Zida, who had been detained Wednesday along with the interim president before the transitional government was dissolved.
Local media reported that the junta was being given a 10 a.m. (1000 GMT) deadline to disarm. The National Armed Forces said it wanted the mutinous soldiers to lay down their arms and return to barracks without bloodshed.
"I call on the population of Burkina Faso to remain calm and to have confidence in the National Armed Forces who have reaffirmed their unfailing commitment to preserve the unity of the nation," Gen. Pingrenoma Zagre said in a statement.
On Monday, the national army said it was sending soldiers from elsewhere around the country to Burkina Faso's capital and called on members of the presidential guard to stand down.
The coup leader, Gen. Gilbert Diendere, later apologized to the nation through a written communique and said he would hand over power to a civilian transitional government.
West African regional mediators have proposed an agreement that calls for Diendere to step down, and for interim President Michael Kafando to be reinstalled until elections can be held. Kafando, who already had been released by the junta, is staying at the residence of the French ambassador in Ouagadougou.
The vote would take place no later than the end of November, and allies of ex-President Blaise Compaore would be allowed to take part.
An electoral code passed earlier this year had banned members of Compaore's party from taking part in the election. He was forced from power last October after 27 years in power in a popular uprising after he tried to prolong his rule by amending the constitution.
Copyright 2015 The Associated Press. All rights reserved. This material may not be published, broadcast, rewritten or redistributed.