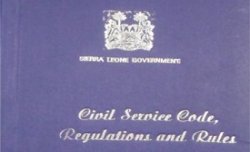 The boss of the Civil Service who also doubles as the Cabinet Secretary Mr S.G. Pessima has sent out a note of warning to all civil servants against "active participation in politics".
In a memo dated 10th January 2012, but which has taken time in getting around the over 70 addressees Mr Pessima drew the attention of civil servants to an observation which "has come to the attention of His Excellency The President."
This observation he stated was "that a number of civil servants are reported to be actively involved in political party activities." This "conduct" he stated "is directly at variance with their (civil servants) obligations under the Civil Service Code, Rules and regulations."
Mr Pessima went on to quote item (e) (ii) of the Principles of the Civil Service which states that "Civil servants shall not take part in political party activities such as canvassing on behalf of candidates or causes, writing letters to the press on party political matters, accepting any office in any political party organization and must not be influenced by partisan political considerations to compromise their impartiality and neutrality in the discharge of their official duties."
Somewhat ironically the memo went on to state that "Officers are however entitled to their own views on political matters and if so qualified may vote in elections." This is not the first time that President Koroma has drawn attention to Civil Servants being involved in elections. Infact this call has been made at least twice since he assumed the presidency.
Some civil servants have described the directives as hypocritical. They say the head of the Civil Service has failed to draw the attention of the politicians and especially some ministers – to the next section of the civil service codes section (e) (iii) which states that "Civil servants may not be required to give up or alter their personal views, including their political and religious convictions …"
According to some civil servants this section [(e)(iii)] is more crucial since civil servants are being bullied and victimized by Ministers because of their alleged political convictions. They claim that this action has been effected by transfers and long and extensive leaves even when they are not due. This is why they say the directive is hypocritical on the side of the head of the Civil Service.
Most civil servants have been critical of the way in which postings have been done and question whether infact it should be done by the civil service boss or the human resources boss. The critical issue here has been the question of "official age" as against real biological age. Those who should have retired long ago and who are age mates of the civil service boss are still being retained in the service thereby clogging up the promotion ladder. These are the issues that should be addressed even more seriously that threatening those who hold contrary political views.