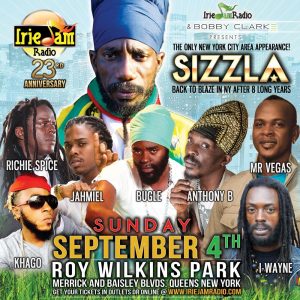 After 8 years absence, reggae star Sizzla returns to New York for Irie Jam Media's 23rd anniversary celebration.
The milestone event on Labor Day Sunday, September 4 at Roy Wilkins Park in Jamaica, New York will bring together –  reggae dancehall artists, Mr. Vegas, Richie Spice, Anthony B, Elephant Man, I-Wayne, Bugle, Jamiel and Sizzla as headliner – to what observers say is the last major summer reggae concert for summer in New York.
Sizzla's performance on Sunday comes 8 years after he and many other reggae dancehall artists' visas were revoked from entering the Unites States for gay bashing lyrics in their music.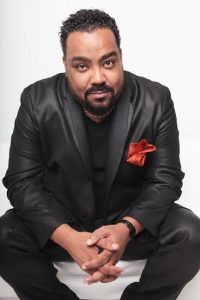 According to Irie Jam officials, there has been an "exciting buzz" from overjoyed Sizzla fans in the tri-state area (New York, New Jersey and Connecticut) after U.S. immigration authorities announced permission f or him to perform in the United States again.
"It has been a long, long wait for music fans that have waited patiently to see Sizzla perform live again here" said Bobby Clarke, CEO and founder of Irie jam in a statement referring to his last performance in 2008 when the annual celebration was called Irie Jamboree.
"Since that performance, we have received numerous calls from fans wanting to see him in NY again. We have listened to the people's cry and we are excited to include him on our Labor Day weekend anniversary presentation," Mr. Clarke added.
Word on the streets is that many of New York's reggae massive are anxiously anticipating the show to check out not only if Sizzla as headliner could draw a record crowd but most importantly if he has toned down on gay bashing or what they refer to as "batty boy" lyrics