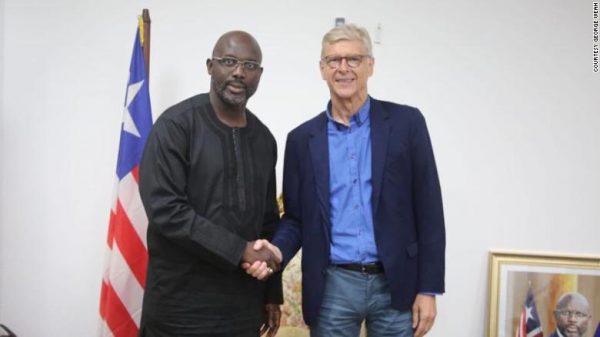 Former Arsenal football manager Arsène Wenger was the guest of honour in Liberia last week; at the invitation of President George Weah.  Liberia's President George Weah lavishly praised former Arsenal manager Arsène Wenger, as he decorated him with the West African state's highest honour – the Knight Grand Commander of the Humane Order of African Redemption. "You proved yourself as a teacher when you revolutionised forever the approach of scouting young talents all over the planet, particularly throughout Africa," Mr Weah said of his former coach during the ceremony in Monrovia, (Reuter's news agency reports.). He also said that Arsène Wenger "showed me love when racism was at its peak".
President George Weah has bucked the trend in sportsmen turning to politics, when the curtains come down on their sporting lives. Imran Khan, the legendary cricket player became Pakistan's latest Prime Minister last week, after trying for the last 20 years. Other sportsmen who had excelled in their fields have made similar journeys into politics; and basically refusing to land on the scrapheap. Having represented their respective nations on the world stage, these former sportsmen may feel that they can still serve their communities in other ways. Others in this group include Arnold Schwarzenegger (Governor- California, 2003-2011), Sebastian Coe ( MP 1992-1997),  Jesse " the body" Ventura (Mayor & Governor-Minnesota, 1991-1995), Manny Pacquiao (Congress aspirant-Philippines), Idi Amin (President-Uganda, 1971-1979) Kevin Johnson ( Congressman-California, 2008-2012) Romario ( Senator-Brazil, 2014-present) and Vitali Klitschko (Mayor-Kyiv-Ukraine2014-present) ; to name but a few. America has the highest number of sportsmen turned politicians.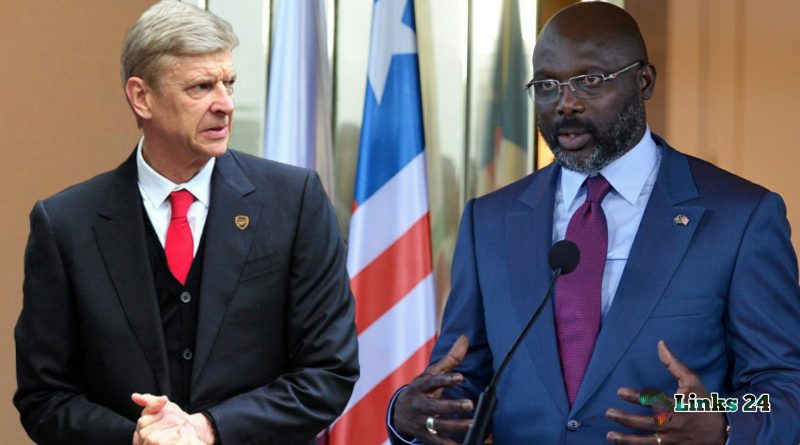 If this trend is anything to go by, it sounds like the electorates tend to extend their love affairs and admiration for their sporting heroes. Such admiration can never be in doubt, as most of these sportsmen have been role models for their fans. You can bet your bottom dollar, that these sportsmen cum politicians were never voted in, for their political acumen in the first place. The support was generally a by-product and spill over of their prowess and the fans' love for their heroes respectively. But it looks like President George Weah took this love affair one notch up last week, when he invited his former manager for knighthood of the realm. Understandably, rightly or wrongly, he has received mixed reviews for his troubles.
The relationship between Wenger and Weah goes way back to 1988, when Wenger was boss of Monaco FC in France. George Weah was plying his trade in Cameroon when Wenger snapped him up for a paltry sum, by today's standards of £50,000.00 (fifty thousand pounds). Weah went on to play for Paris Saint- Germain, AC Milan, and later Chelsea and Manchester City football clubs. George Weah, sorry president Weah also went on to achieve the highest personal accolade that many footballers can only dream of, by becoming the FIRST and ONLY African to win the  the FIFA World Player of the Year and the Ballon d'Or  in 1995. Upon receiving the award, George Weah immediately displayed his affection for and gratitude, as he immediately handed over the award to Arsène Wenger during the glitzy ceremony. It is therefore, no wonder that those in the know were least surprised by this latest gesture. Weah's debt and show of gratitude to Wenger has never been in question. But why display such a show of gratitude?
Understandably for some, President Weah has come for some serious criticisms, and especially so on social media. Some have gone as far as charging him with bringing the country's reputation and the prestige of the knighthood into disrepute. Many believe that such an honour is for the preserve of higher callings in life. There are also those, who see President Weah's gesture as a personal aggrandisement for his ego; and that this has been a misplaced show of a personal relationship. The moral crusaders have not been in short supply since the glitzy ceremony. There are rumours that Wenger was even invited to his inauguration, but Wenger could not attend as he was winding down another love affair with Arsenal FC at the time.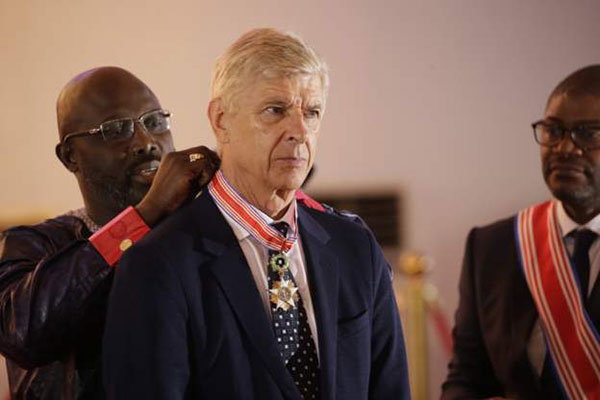 But president Weah would beg to differ. He would like to see his gesture as a show of self-determination beyond self-interest. But before others continue to judge him, it might help if they try and wear his shoes. George Weah is one of 13 children who hail from South-eastern Liberia's Grand Kru County. Following the separation of his parents when he was still a baby, he was raised by his grandmother Emma Klonjlaleh Brown. As a scrawny little boy, kicking football made from local materials on the mean streets of Liberia, Weah began to play football for the aptly named Young Survivors youth club at the age of 15. He went on to star for Mighty Barrolle and Invincible Eleven; and the rest is history.
With such a background, you would agree that he was indeed a survivor. Growing up in a broken and polygamous family, and dropping out of school at such an early age, it is conceivable that many in such a situation would have ended up being regular guests in our correctional facilities. But against all odds, Weah was determined to make something of his life, and he was not ready to settle for the cruel hand that life had dealt him at such an early age. He swam against the tide until he was literally picked up from the jaws of poverty, by the then Cameroon national coach Claude Le Roy in 1988. Arsène Wenger later brought Weah to France, which marked the beginning of an illustrious career proper. 
The role of Arsène Wenger in Weah's life cannot be overemphasized. To George Weah and all those who can empathise with him, this was pure redemption. The life of George Weah would be incomplete without a mention of Wenger. Like he rightly said, Wenger "Showed me love when racism was at its peak". Racism in football may have subsided these days, but back then it was a badge of honour for the ignorant. But more than his personal relationship with Wenger, Weah owes this gratitude to him because he believes that Wenger "revolutionised forever the approach of scouting young talents all over the planet, particularly throughout Africa," To George Weah and many others, his journey into the history books of the sport was pure and simple REDEMPTION.
Many would see this as only fitting that he decided to confer the Knight Grand Commander of the Humane Order of African Redemption on Wenger. In order for anyone to rightly or wrongly pass a moral judgement on Weah's latest gesture may be, just maybe, it will be worth spending time in his shoes, just for a minute.  The moral crusaders may accuse him of anything and everything. But one thing they cannot accuse him of, is ingratitude. Gratitude is the heart's memory; it is the single most important ingredient to living a successful and fulfilled life. We can all open the door of the universe through gratitude. So as we take to the pulpits of our moral crusades, remember that you have not lived today until you have done something for someone who can never repay you. Be thankful for every moment. Nor forget old bellyful.
The one sadly thing about all this is, President Weah is one of the world's best players, never to have played on the world's biggest stage; the World Cup.
Our lives begin to end the day we become silent about the things that matter (M. L. King).