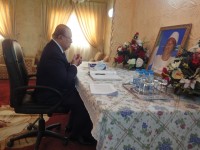 Diplomats in the Saudi Arabian capital of Riyadh have signed a book of condolence in memory of late Sierra Leone's president, Alhaji Dr. Ahmad Tejan Kabbah.
The book was opened from Monday, 17th March to Thursday, 20th March, 2014. A good number of top diplomats from the Saudi Foreign and International Cooperation Ministry, the United States, Lebanon, UAE, Kuwait, Sultanate of Oman, Brunei –Darussalam, Bangladesh, Pakistan, Chad, Tanzania, Ghana, Uganda, Guinea embassies, among others signed the book.
A western diplomat described the late president as "a great personality of peace who steered Sierra Leone to the path of development following years of civil war through his fundamental values of democracy, development and respect for diversity and inclusion."
The late man died on Thursday 13th March, 2014 at his Kabaya lodge residence in Juba, west end of Freetown.