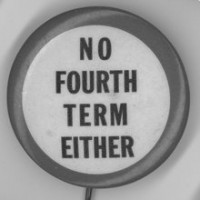 Many opinion writers have been saturating the world wide web about an alleged 3rd term ambition by His Excellency President Ernest Bai Koroma. While some are firmly supporting the motion, others are vividly opposition it. But the major questions which neither the protagonists nor the antagonists are able to answer are: is President Koroma Interested in any 3rd term bid? Are the 3rd term campaigners in consultation with the president? Why the 3rd term suggestion? Who might really benefit from such shift in constitution?
As far as we know, it's true that President Koroma, like any other past president in the country's history, is going to leave some political legacies, but that doesn't in anyway, make him different from his predecessors. We know that all post-colonial governments in the Sierra Leonean history (including the Ernest Bai Koroma's APC) have not been able to bring the ordinary citizens what they really need. The Sheki/Momoh's APC, NPRC and SLPP left some positive and negative legacies. But most of the time, the negative has always overweighed the positive as many citizens continue to cry for better living. So we don't know yet how Ernest Bai Koroma's APC is going to leave us because he still has some years to go. What we know, for sure, however, is the fact that most of his promises have not been fulfilled so far.
The SLPP under late President Kabba's leadership took the credibility of ending the war and implementing some post war reconstruction projects but it also failed in many other areas of governance. Likewise the APC, it's succeeding in some areas but it still has too many question marks, as long as it's unable to fulfil most of its promises to the ordinary citizens.
Meanwhile, the greatest irony is that both parties always point fingers at each other as they vie to claim records for fighting against what I consider to be their own traits. For example, some of the greatest negative legacies which both of them can even win a world contest with are perpetual corruptions, regional/tribal based politics, constant social marginalization against the poor and monopolization of the country's meagre resources by political elites, which solidifies the fundament of poverty for the ordinary voters. They have an Anticorruption Commission that only prosecutes the unfortunate ones; the agriculture department only deliver tractors and farming inputs to their own families; the national power grids only generate electricity to their individual homes; state jobs are allocated by party colours and tribes; journalist are charged under a notorious libel law that doesn't exist in any true democratic environment; poor patients die in government hospitals due to lack of medical fees; 75% of the youth population still remain unemployed. Yet, they tell the western partners that the country's economy is booming and that they are the best political groups in post-colonial Sierra Leone.
Sincerely speaking, if I were a registered voter during the past elections I would have voted APC simply because there was no other choice. Philosophy taught me that the voice of majority is the voice of God. That is why I never took the Bio's petition against the pooling results seriously. Because even if the challenged pooling stations were to be nullified by the court of law as Christiana Thorpe did in 2007, Ernest Bai Koroma would have still emerged the winner of the overall vote. This is not because he is the best president of our life time, but this is simply because he was and still he is appropriately placed politically and economically. He had at his disposal all state resources and the oppositions were less effective, badly fragmented before going to the pool, a phenomenon that undermined their supports even in their own strongholds. Even the illiterate sorcerer in my village suggested victory for President Koroma before going to the pool .
But the million dollar question I would like to ask is: can any successor within the current APC hierarchy be well placed and fortunate like President Koroma to claim a landslide victory? I bet everyone, the answer is NO. Perhaps this answers the question "why the 3rd term suggestion?"
I personally don't think it's president Koroma's desire to taint his own image by footing a 3rd term bid. I strongly believe that it's the disciples, the greedy compatriots, the bootlickers, the political appointees, the praise singers who have found themselves in a political El Dorado under President Koroma's leadership that are voicing out their own insatiable desires for him to go for a 3rd term so that they can continue to milk the cow without feeding it. They might have realized the importance of the tree before it is cut down. They know that 2017 is not forever. They are telling us how their desire for power could have taken precedence over democracy, human right and national peace if they were elected presidents of the republic.
Considering the impotent nature of the opposition SLPP, to effect any changes in the constitution might not be difficult for the ruling APC. But I want to believe that President Koroma is wise enough to realize the possible aftereffect of such shift in the country's constitution. He knows that even within the APC hierarchy there might be people who would want him to resign now and give them the chance to go for the presidency regardless the fact that they might not be well placed to win an election. He knows that even if his government can electrify the whole Sierra Leone today with "clean electricity"; supply every Freetown resident with safe drinking water; construct Lungi/Freetown bridge; relocate Freetown; make tractors and farming inputs available for every Sierra Leonean farm family; reduce youth unemployment from 75% to 0.5%; minimize corruption to 0%; repeal the notorious libel law against the press; declare the free healthcare for every Sierra Leonean; and facilitate every citizen's access to equitable justice, that would still not justify a 3rd term bid. The President knows that to manipulate the constitution in his own favour to run for a 3rd term could only blacken his own image and reverse the country's hard won peace. A 3rd term might work in some highly peaceful and civilized countries but not in a young democracy and fragile state like Sierra Leone.