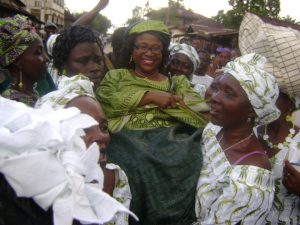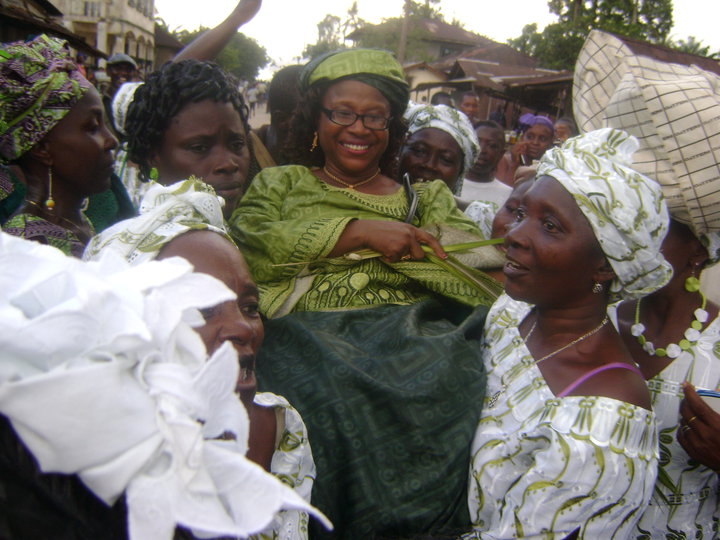 Thousands of Sierra Leone People's Party (SLPP) supporters, mostly women joined the presidential running mate of the party Kadie Sesay to observe the Friday 25th May 2012 prayer at the Blama road mosque previously known as Temne mosque, where she called on her brothers and sisters to support her in her struggle to go to State House as vice president.
Hundreds of party supporters dressed in their party colours drove with her motorcade along Hangha road and Blama road to the Holy Trinity Parish hall where she addressed scores of party supporters. In her statement she thanked the women for their massive support demonstrated to her by coming out in their thousands, saying upon her return she will tell Freetown and Bo people that Kenema women have done it. She says their action has shown that they strongly have the party at heart which she confessed she feels proud about it.
She called on her supporters to do everything possible in their powers to ensure that they win the November 17th 2012 elections. She says during the present regime so many people lost their jobs, some of the students who were on scholarships were denied that opportunity that led them to drop out of school because their parents could not afford to pay for them any longer. Kadie Sesay says if the APC gets a second term so many people will go out of the country.
The presidential running mate says in combination with the youths and women they will take the SLPP to state house on a smooth ride, adding for the women to maintain their dignity they need to vote in the SLPP so that she will become the first female vice president of Sierra Leone. She appealed to the women not to allow any body to fool them this time round. Kadi Sesay says when they shall have resumed power come November 17th Sierra Leone will be taking on the new direction focusing on some pillars such as education which is the key to the world. She added that they will ensure that every child gets education, pointing out that currently Sierra Leone is the least in public examination in West Africa.
In terms of health she says they will improve on the health facility by making it affordable by all especially the children. For the youths she said there will be job opportunity for the youths in the country.
Kadie Sesay pointed out that the country is endowed with natural resources but they are not benefiting the nation. She said they will ensure the people of this nation get maximum benefit from their natural resources.
She told the women that if she becomes the VP it will be on behalf of all women folks and she promised to be mother for all and sundry and to continue to fight for all for better life. Kadie Sesay says there are honest and clever women ready to work for the nation, and Maada Bio has promised to give the women of this nation more than what they are asking for. She appealed to the executive of the SLPP to give chance to the women folk to become councilors in this country. She disclosed that the SLPP has more Northerners and she called on all to support and work with all those they meet in the party.
She says campaign has not started yet but called on the party supporters to go all out and bring their brothers and sisters in the other parties on daily basis describing it as women to women and women to men – frank talk. She says every part in the Northern Province have people representing the SLPP. Talking about defection she says in the party you will try to keep people but you will not tie them. She pointed out that she has no doubt that the SLPP will win in the first round. She called on the district executive of the SLPP to make sure that they bring other people onboard to feel that they are part and parcel of the party. We will do everything humanly possible with Maada Bio to win she said.
All the speakers at the occasion pledged their fullest support for the Sierra Leone People's Party promising to vote in Kadie Sesay and Maada Bio.