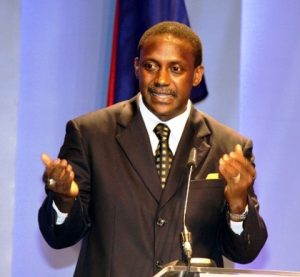 Barely, a month after Ivorian President Alassane Ouattara honored him with the Commander of the National Order of Ivory Coast; Sierra Leonean born Dr. Kandeh Yumkella has been selected as the 2013 recipient of AAI Distinguished Alumnus Award.
In its 60th year, the AAI presents Distinguished Alumni Awards annually to an alumnus of one of its education and training programs, who has made remarkable contributions to their country or field of work.
"AAI is thrilled to celebrate our 60th Anniversary with it most high-profile Awards Gala to date, on Wednesday, September 25 at the Hilton New York in New York City," said Amini Kajunju Sunday during an interview I conducted on African New Dawn Radio, which airs on WRSU, 88.7 FM at Rutgers University in New Brunswick, New Jersey.
Ms Kajunju, the first African from the continent to head AAI went on to say at the Anniversary Gala, AAI will present the African Union (AU) on the occasion of its 50th anniversary with the first-ever AAI Institutional Legacy Award, in recognition of our organizations' intertwining histories. We'll pay tribute to the AU, in liberating African countries and in fostering development, peace and security in Africa.
She noted, "H.E. Dr. Nkosazana Dlamini Zuma, the first female Chair of the African Union Commission, will accept the award on behalf of the African Union."
Acting in her capacity as President and CEO of AAI, Ms Kajunju issued a statement via email extolling Dr. Yumkella's accomplishments:
"The Africa-America Institute (AAI) is deeply honored to recognize Dr. Kandeh Yumkella with the 2013 Distinguished Alumnus Award at our AAI's 60th Anniversary Awards Gala on September 25 for his outstanding achievements in contributing to sustainable development, particularly in the area of sustainable energy, in Africa and around the globe."
"Dr. Yumkella was a recipient of AAI administered-scholarships to support his Masters of Science in Agricultural Economics from Cornell University in 1986, and PhD in Agricultural Economics in 1991 from the University of Illinois."
"Annually, AAI presents Distinguished Alumni Awards to an alumnus of one of AAIs education and training programs, who has made remarkable contributions to their country or field of work. Dr. Yumkella embodies AAIs mission to strengthen Africa's human capacity through education, and has made a real impact in working towards poverty alleviation and furthering economic progress in his native country of Sierra Leone as well as across the African continent."
"The AAI Awards Gala will recognize Dr. Yumkella for drawing international attention to the linkages between energy poverty and income poverty in developing countries. He is bringing his deep passion for energy and environment-related causes to his new position as Special Representative of the UN Secretary General Ban Ki-moon and CEO of Sustainable Energy for All. Given the United States launch of Power Africa, a new initiative to expand access to power in sub-Saharan Africa, we know that Dr. Yumkella through his expertise and leadership at the UN Sustainable Energy for All initiative will have much to offer the U.S. on renewable energy and sustainable energy issues."
"Additionally, we acknowledge Dr. Yumkella for his exemplary professional achievements as former Director-General of the United Nations Industrialization Development Organization (UNIDO) and as the Minister for Trade, Industry and State Enterprises of the Republic of Sierra Leone."
"AAI is incredibly proud to count Dr. Yumkella as one of our own. We look forward to honoring him for his remarkable achievements with other outstanding organizations and individuals — African Union, Tony Elumelu, and Chevron — at our 60th Annual Awards Gala in September," said Ms Kajunju in a statement.
The AAI was founded in 1953 in Washington, DC by Dr. Horace Mann Bond, former President of Lincoln University together with Professor William Leo Hansberry, a Howard University professor of history with a multi-racial collective of educators, to support African students in their pursuit of higher education in the United States.
According to AAI, today, more than 23,000 individuals from 54 African countries have benefited from AAI's higher education scholarship and professional training programs. AAI alumni are leaders in Africa's public, non-profit, and private sectors.