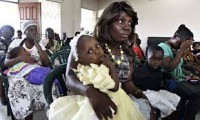 The ongoing Ebola outbreak has prompted many to ask serious questions about whom primarily the horrific disease would strike. The questioned posed by Lauren Wolf, Columnist for Foreign Policy Magazine: "Why are so many women dying from Ebola?" is quite apt and instructive.
According to her, data show that many infectious diseases affect one gender more than the other. "Sometimes it's men, as with dengue fever. Sometimes it's women generally, as with E.coli, HIV/AIDS (more than half the people living with the virus are female), and Ebola in some previous outbreaks. Sometimes it's pregnant women and mothers, as with H1N1 (an outbreak in Australia is currently infecting women over men by a 25 percent margin)."
In an August edition of the Washington Post, it was noted that women have comprised 55 to 60% of the dead across Sierra Leone, Guinea and Liberia. Liberia alone has recorded about 75% of victims to be women.
Although total cumulative deaths from Ebola have not been disaggregated in a clear cut manner by the three affected countries, it is clear that women due to their primary role as caregivers are the worse hit by this epidemic. But in full recognition of their responsibilities to loved ones, ranging from sons, daughters, brothers and husbands, when they are sick, women in all of these bear the greatest risks by mistakenly breaching the public health safety conventions for the prevention of Ebola being put in place by government through the Ministry of Health and Sanitation in collaboration with the World Health Organization (WHO).
According to data published by WHO, Ebola is said to have consumed well over 3,000 lives in Sierra Leone, Guinea and Liberia combined with hiking figures of 6,500 Ebola patients in all three affected MRU countries. The Emergency Operations Centre (EOC) and Ministry of Health and Sanitation in Sierra Leone jointly published updates as at 7th October for total cumulative confirmed deaths in Sierra Leone alone is 703.
Though not normally done deliberately, while providing care for their family members who fall sick, women come into direct contact with the bodily fluids of infected persons through which the virus is being transmitted to them, and this is how women in all three affected MRU countries are inevitably contracting the viral disease. We hope this tide is stemmed by the intensification of sensitization among the populace that people who fall sick should seek the nearest health facility rather than stay home to "pepper doctor" themselves.
In any disease outbreak anywhere in the world, women are always vulnerable in that they hardly ignore the sick as in cultural and traditional practices, especially in our sub-region where they are playing key roles in providing the necessary care and support for their loved ones whenever they are sick. Care comes in the form of bathing, dressing and sometimes even feeding them simply because of emotional response involved in care giving to loved ones.
And as a result of such risks most caregivers – women – end up contracting the virus through physical contact with the bodily fluids of their infected siblings or relatives.
Moreover, through these modes of transmission and based on our gut feelings (though we hate to be right) over 60% to 65% of the deaths reported are women who may have contracted the virus through the execution of their respective gender responsibilities in their homes, rather than seeking expert medical professionals to handle the sick. As for the Sierra Leone situation where little or no knowledge on Ebola related health education was available at the initial stage of the outbreak, so many women died at the epicenters in worst hit districts of Kailahun and Kenema and now in Freetown as well as other parts of the country, including the north.
In fact, women are caught right in the middle of the entire crisis because they are so emotionally attached to family members and relations whenever they fall sick.
This is the reason why they deserve special attention from the national Ebola response committee, so that these economic providers, who take much of the major risk, merit such attention through support and sensitization taking into cognizance the interconnection and the knock on socio-economic effects on not only Sierra Leonean women, but also women of Guinea and Liberia.