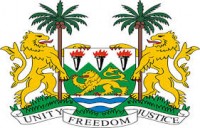 Minstry of Health and Sanination
PRESS RELEASE
EBOLA OUTBREAK UPDATES—September 19, 2014
Total Survived and Released Patients = 367
New Confirmed cases = 33, as follows:
Kailahun = 0, Kenema = 0, Kono = 1
Bombali = 0, Kambia = 0, Koinadugu = 0, Port Loko =15, Tonkolili = 5
Bo = 0, Bonthe = 0, Moyamba = 0, Pujehun = 0
Western Area Urban = 7, Western Area Rural = 3
Cumulative confirmed cases = 1,618, as follows:
Kailahun = 529, Kenema = 412, Kono =15
Bombali =122, Kambia =4, Koinadugu =0, Port Loko =160, Tonkolili = 39
Bo = 77, Bonthe = 1, Moyamba = 24, Pujehun = 10
Western Urban = 143, Western Rural = 61
Total cumulative confirmed death is 495, as follows:
Kailahun = 205, Kenema = 229, Kono = 2
Bombali = 6, Kambia = 1, Koinadugu = 0, Port Loko = 16, Tonkolili = 2
Bo = 16, Bonthe = 1, Moyamba = 6, Pujehun = 1
Western Area Urban =7, Western Area Rural = 3
Probable cases = 37

Probable deaths = 37

Suspected cases = 136

Suspected deaths = 11
IMPORTANT NOTE!
Koinadugu still remains the only district that has not registered confirmed cases of Ebola in Sierra Leone
IMPORTANT NOTE:
The Red Cross Ebola Treatment Centre in Kenema is now functional and has started admitting Ebola Confirmed Cases
The Lakka Holding Centre in the Western Area has started operations today, the Chinese team from the Centre for Disease Control (CDC) and the Ministry of Health in China has also arrived in country with a mobile laboratory. The Chinese medical team will operate the Jui hospital as a holding and treatment centre.
The Police are advised that all fuel station workers in their uniforms and Security Personnel of MoHS should be allowed to their various work stations once they provide their respective ID Cards. Fuel stations across the country are encouraged by the EOC to continue their normal operations during this three days exercise, but staff working at these stations are advised to be in their uniforms at all times while on duty
SLRTC Buses will be available on different routes in the Western Area and districts to transport health and other essential workers with passes and valid work ID cards or uniforms during the three day stay at home. Health workers are particularly advised to look for and board these SLRTC buses on routes within their neighbourhoods, so that they can be taken to work. Bus services will also be available for ticket holding passengers travelling to and from Lungi International Airport
Passes have also been issued to essential workers, groups and EOC team members who will be participating in the three day stay at home exercise. These essential workers and team members are advised to carry their passes with them at all time to avoid embarrassment
The SBTS Group in Sierra Leone has donated free call centre software valued at 350 million Leones to the Ebola 117 call centre to enhance call handling, messaging and call waiting capabilities. SBTS, with support from the E-health group has also trained 120 call centre operators to increase the capacity at the 117 call centre
PRESS RELEASE
The Incident Management Committee of the Emergency Operations Centre (EOC) have received information that some volunteers who were trained for the three days stay at home "Ose to Ose Ebola Tok" were replaced by family members and friends of the District Health Management Team (DHMT) staff in the Western Area. The EOC is encouraging volunteers who have been victims of such to report to the EOC for appropriate action
The EOC also wishes to inform the general public that the 1.5 million bars of soap procured for this exercise are to be distributed based on households and not on the number of people living in a households. All volunteers are therefore reminded to explain this aspect as they visit households and remember to leave on a bar of soap per household
IMPORTANT NOTE
Ebola Emergency Account Details:
Account Number (Leones): 003001118285030109
Account Number (USD): 003001014138030145
The Ebola Emergency Account is audited by Chartered Accountants from the KPMG Accounting and Auditing Firm at the Emergency Operations Centre (EOC)
All Cash Donations are deposited at the Ebola Emergency Account managed by the EOC, and kind donations (Medicines, Equipment, Supplies, etc.) are held at the Government Medical logistics stores, Freetown, by the Ebola Logistics team, for processing, storage and equitable distribution as required throughout the country.
The Ebola Viral Situation Report, Ministry of Health and Sanitation
For more information, please contact:
District level: District Health Management Team
National level: Directorate of Disease Prevention and Control,
Website: www.health.gov.sl
Mobile: 117 (Toll free)