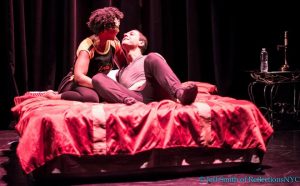 With Rolling Stone's retraction of the UVA rape story after investigation by Columbia University, notwithstanding, actress and playwright Fariso Jordan succeeds in keeping it strictly real in her rescripted, full production play Georgia.
Fariso's play Georgia premiered as a one-woman play in 2013 and two years later it has metamorphose into a re-written full cast production.
In Georgia, Fariso, founder and director of Setting the Stage, a college-prep program for underrepresented high school students interested in studying theatre takes a hard look at the incredibly sensitive, controversial and serious social and public health issue of rape in relationships.
After six nights run at the Actors Fund Art Center in Brooklyn and a three nights run off- Broadway in New York, I caught up with Fariso on Wednesday for an interview. Here is a transcript of some of what Fariso said.
Regarding Georgia, the Play, what has changed since the initial production?
Georgia
has transformed from a one-woman play into a rewritten full-cast production. There are so many deeper layers and plots going on within this singular plot. A new character that has been added is Greg, who is the best friend of Georgia's boyfriend, Ronnie. Greg is a sweet guy who goes through an incident where he reveals feeling "violated," and progressively turns into a misogynist throughout the play.
Another character that has been added is the father of the title character, Georgia. Georgia's father is the strong, silent type in the home, but loud and boisterous in his church. The father may offer answers as to why Georgia experiences what she experiences in the way that she experiences it.
What do you want the audiences to take away from the play?
The importance of communication. In Georgia, we see so many opposing perspectives expressed regarding whether an incident is rape or is not rape. These perspectives are realistic and represent honest thinking for many. There seems to be an acceptable gray area when it comes to sexual consent when really there should never be any gray area. Sexual consent is really very simple. If consent is not communicated, then the act is not consensual, and if the act is not mutually consensual then it is rape.
I want to change the conversation we have about rape from, "Did she/he say no?" to "Did she/he say yes?" Yes and No can be communicated in so many different ways, especially none verbally. In this production, we have four dancers who illustrate the powerful ways in which we communicate non-verbally which should not be ignored.
Do you think that the message has evolved from the first time you put on this production? If so, how?
The first version of the play reflected much of what I, as a young woman, had to say on this topic. This newly rewritten version has expanded to meet what I have seen to be the needs of what the community longs to hear on this issue. The core message of the play is still the same, but the way in which it is expressed has become more universally translatable.
How has the community responded in Brooklyn and Off-Broadway?
The community has responded in such a mighty, majestic, and courageous way. Performance is just the beginning. After each production, we go into a talk back with the audience and the entire creative team.
The community has been so generous in their attendance, engagement, asking of questions, sharing of opinions and participating in passionate, difficult conversations about the issues that the play addresses. Ultimately, that is the purpose of this play, to get people thinking in a more critical and compassionate way regarding healthy relationships and healthy sexual behaviors.
Sheila Van Diver contributed to this interview.