By Winston Ojukutu-Macaulay Jnr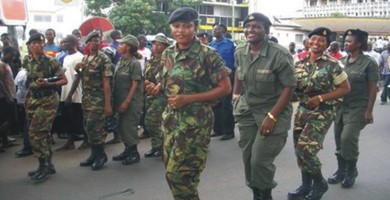 Just weeks after the Human Rights Commission (HRC) released its fourth report expressing concerns about the continued Sexual and Gender Based violence in Sierra Leone, a correspondence, titled "Letter of complaint" and dated 9th November 2011, addressed to the Commission and signed by one Lt Boi Inah Moses has exposed the dark side of life for women in the Republic of Sierra Leone Armed Forces (RSLAF).
The three page letter which has landed on the desk of Ms Lucian Caulker of the Human Rights Commission gave detailed accounts of how Lt. B.I. Moses has allegedly suffered at the hands of her superior officer after she repeatedly refused his sexual advances. In the letter, the lady lieutenant recounted how she came across the senior officer who now holds the rank of a Colonel when she was a potential cadet at the Armed Forces Training Centre (AFTC). She wrote that one day while at the training centre an officer with the rank of a Major took her from Kabba hall to a single room at the officer's mess and left her there. Later this Colonel who was by then Director of Defense Personnel came into the room and "he told me inside the room (that) coming into the military as a female you need to be protected and that he really love me and that he will take care of me." She further wrote that the said Colonel "promised that after our training he will post me to Freetown and give me money to settle myself."
After training she wrote that she was posted to Makeni and the said colonel was then Commanding Officer (CO) of the second battalion (2Bn) in Daru. Later she was posted to 5th battalion where she said she met the said Colonel as Commanding officer. In the letter she recalled that "at first I was afraid to talk to him because of his intentions towards me but as time goes on we started talking to one another. He came up with these love affairs again but I refused for the second time." She further recounted how the Colonel saw her friend (Magainda) who normally visits her and expressed his love for her, of which told him "no problem just because I thought that was going to stop his advances towards me".
She also named two other friends Yeatay and Zainab who also had love relationships with the said Colonel and "because he was my commander I had wanted to please him … I became peacemaker in their love affairs." She wrote "I was the one cooking for Col. (name withheld) until he was posted to headquarters 5th brigade."
The lady lieutenant also recalled that "during the opening of parliament last year Col. (name withheld) took my mobile phone and went away with it to his residence on the pretext that when I get to his house he will have an affair with me; which I never did." Later she said someone told the Colonel that she was having an affair with another senior officer and this made the colonel mad to the extent that he took the cell phone and gave it to the "paymaster at the brigade headquarters with a strong message that he should come and give me my cell phone and that I will never get the protection I deserve in this military … I should never call him again from that day and surely will regret what I have done."
After some time she recounted that she was called for an interview for all what she had said (above) by Brigadier Kabbia and Brigadier MA Sesay.
Things however took a turn for the worse for her when she was accused of being the source of indifferences between two other officers and as a result she "was posted to first infantry battalion stationed at Daru by the Chief of Defense Staff (CDS) without any form of investigation." She went on "the formal postings order was sent to my former unit 5 infantry battalion on the 9th of September 2011 and was asked to vacate my quarters on the 12th of September 2011 … just 4 days given to me to pack my belongings which I think was very unrealistic." However the lady lieutenant said she proceeded to Daru on the 16th of September and she could not find accommodation within the barracks so she had to rent a room in Daru town.
Ten days later she wrote "on the 26th of September 2011, I was appointed Unit Paymaster and on my way to Freetown … to receive salary for my unit, I got a call that Colonel (name withheld) … had instructed Military Police to break into my room in my absence." She stated that the instructions given to the military police "was successfully carried out". She explained that "My properties including bed and drawers, sofa chair, fridge, two burner cooker, microwave, glass table, carpet, divider, wardrobe, dressing mirror, clothes (including five pairs of military combat suits, two pairs of boots, civil clothes and assorted clothing materials) electrical appliances (television, electric heater, electric iron stabilizers, step down transformer etc.) jewelleries (gold chain set), internet modem, sony digital camera, cooking utensils and foodstuffs, and an amount of One million four hundred and thirty thousand Leones (Le1,430,000.00) … by the time I arrived at the scene my room had already been allocated to another officer."
She complained that "if we are to go by procedure in marching an officer in or out from a quarter, both officers must be present and if in any case one of the two officers are unavailable then somebody must represent the officer on his behalf (this) was never observed."
The lady lieutenant lamented that "as at this moment I do not even know the whereabouts of my belongings. I feel I have been bullied because the eviction was meant for three other officers whose places were not broken into … why me alone?" She reiterated that "this Colonel has been sexually harassing me … this posting to Daru has been machinated by this Colonel because I refused to give in … this is a clear manifestation that something is being held against me … If at this stage of my military career I am facing such treatment who knows what might befall me in the not too distant future?"
The lady lieutenant stated that she has taken the matter to "the ministry of defense where I informed the Minister of Defense, Deputy Chief of Defence Staff, the Assistant Chief of Defence Staff for Gender and Equal Opportunity and other senior military officers." Now she is asking the Human rights Commission to look it to her issue because 'the reason why I did not go through the military chain is they already had a different stance in this whole issue and … I do not think my matter will be treated with impartiality."
The Human Rights Commission says they cannot speak on the issue now because the matter is under investigation. The reaction of one woman, Ms. Cynthia Forna, of Cole Farm, off Wilkinson Road, whose daughter left the army out of frustration, paints the picture of what Lt. B.I. Moses faces in the coming months if not years as she battles to keep her career moving within the Military.
"What stressed me most during m
y daughter's time in the military," Ms. Forna said," is the fact that it is still usually the harassed woman solider, rather than the indiscipline officer, whose career is negatively affected." A lecturer of the University of Sierra Leone, Ms. Cynthia Forna, welcomes the actions of Lt. B.I. Moses and called on the Ministry of Defense and the Military High Command to change their ways. "This situation definitely deserves more attention and action from the President who is the Commander-in-Chief of the Armed Forces to the tunnels of the Military High Command," Ms. Forna concluded