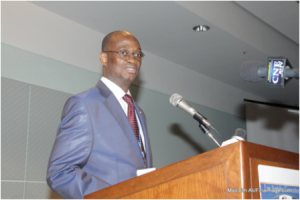 A three day inaugural Ivory Coast in L.A. Business Conference and Expo led by the Republic of Ivory Coast Ambassador to the United States H.E. Mr. Daouda Diabate and a high powered senior Ivorian Cabinet delegation ended over the weekend with boundless optimism.
"Discovering the Potential of the Ivory Coast," was the theme of the business conference and expo which ran from July 6 -8 at the Los Angeles Convention Center and attracted hundreds of business owners, potential investors and consumers.
Presented by the Greater Los Angeles Cote d'Ivoire America Chamber of Commerce (GLACIACC) in conjunction with the Los Angeles Area Chamber of Commerce, the aim of the exhibition and expo is to promote the country's opportunities in the areas of agribusiness, industry, infrastructures, housing, trade, tourism, transportation, mining, oil, and gas.
"This Los Angeles exhibition is a great opportunity for Los Angeles and California to discover what Cote d'Ivoire has and to invest in the new Cote d'Ivoire, a land of opportunity," said His Excellency Ambassador Daouda Diabate. "The time is now, Cote d'Ivoire's eligibility to the African Growth Opportunity Act (AGOA) offers a lot of business opportunities."
Los Angeles host committee members and speakers included Rep. Laura Richardson (CA-37), Hon. Jerome Horton, Chairman, Board of Equalization, Dr. Claude N. Zaho, President of the GLACIACC, and Gary L. Toebben, President of the Los Angeles Chamber of Commerce.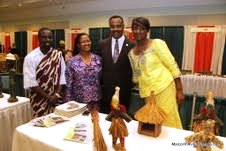 "The economy of Ivory Coast is stable and currently growing. It is largely market-based and depends heavily on the agricultural sector", explained GLACIACC President Dr. Claude Zaho. "Almost 70% of the Ivorian people are engaged in some form of agricultural activity. Principal exports are petroleum, cocoa, coffee, pineapples, tuna, rubber, and tropical woods. Principal U.S.exports to Cote d'Ivoire are rice, wheat, plastic materials and resins, kraft paper, agricultural chemicals, telecommunications, and oil and gas equipment."
GLACIACC, a non-profit organization was established in 2010 to promote an environment of direct trade and business prosperity between the Ivory Coast and the Greater Los Angeles area. GLACIACC provides free business seminars to local minority business owners. The training courses range from the process of starting and sustaining a business to the techniques of effective business development.
The majority of GLACIACC members are African immigrants who currently reside in the Greater Los Angeles area. They are working to build and strengthen business capacity for African Immigrants and Refugees residing in California. Many are business owners who are interested in developing business opportunities with their homeland. The organization also has an active American membership that is interested in developing trade and investment opportunities in the many emerging markets across Africa and specifically in the Ivory Coast.
Jazmyne Cannick is a Los Angeles based communication consultant and media liaison for the event, she said "what was achieved at the event was that the Los Angeles Business Community had a better understanding of Ivory Coast's business opportunities. With Los Angeles being one of the U.S. import and export hubs, it made sense to have a conference here and bring people together to explore ideas on how to better work together. H.E. Daouda Diabate and GLACIACC president Claud Zaho really put the Ivory Coast on the map here in Los Angeles with the business community and out of the expo, further plans were made to continue working together and developing ideas."
Ivory Coast was once considered a "beacon of prosperity for the West African region," but its economy endured a downward spiral after 10 years of civil war which was exacerbated in 2010 after incumbent president Laurent Gbagbo refused to relinquish power after his defeat in a presidential election by current president Alassane Ouattara
The World Factbook estimates, Ivory Coast GDP per capita is $1, 600 and its GDP composition by sector is agriculture: 30%, industry: 21% and services: 49% respectively
For more information, please call (866) 995-7378, email glaciacc@yahoo.com, or visit the Chamber on Facebook http://www.facebook.com/pages/Greater-Los-Angeles-Cote-dIvoire-America-Chamber-of-Commerce/379582098761884.